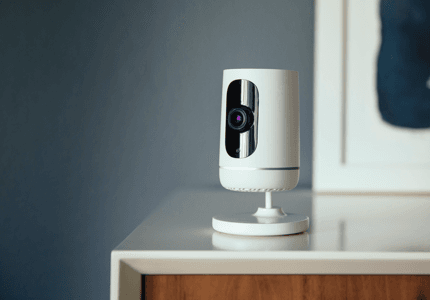 Security Starts With a "Ping!"
Home should be where you're most comfortable. It should also be where you're safest, and that's where an indoor security camera system comes in. The Vivint Ping indoor home security camera is more than just a way to monitor what goes on in your house—it's a way to keep in touch with those inside it.
It's the first indoor security camera to feature one-touch calling, providing a channel for you to touch bases with your loved ones while you're away. You'll also enjoy other exciting features the Ping camera has to offer:
Two-way talk
Infrared night vision
Custom notifications
24/7 Playback
HD wide-angle lens
It's maximum protection with minimal effort on your part.
Ping Camera Features
Your home deserves nothing but the best. The Vivint Ping indoor security camera showcases features that add value and comfort to your smart home system:
Smart Clips
The Ping camera allows you to save 20-second video clips, which are held on demand for 45 days so you can revisit them at your convenience.
Two-Way Talk
Communication goes both ways with the Vivint Ping indoor camera system. It lets you "ping" and talk with your loved ones (and even your pets!) with one simple touch of a button.
Night Vision
Don't be afraid of the dark—the Vivint indoor security camera comes equipped with infrared technology that keeps its vision sharp even at night.
With 24/7 Playback, Your Ping Camera Never Sleeps
The Vivint 24/7 Playback upgrade provides access to your video surveillance feed whenever you need it. The footage your Ping wireless indoor security camera captures is uploaded to the Vivint Smart Drive, and all you need to retrieve it is a web-enabled device. It's like your own personal file backup—you'll never lose a moment as long as Playback has your back.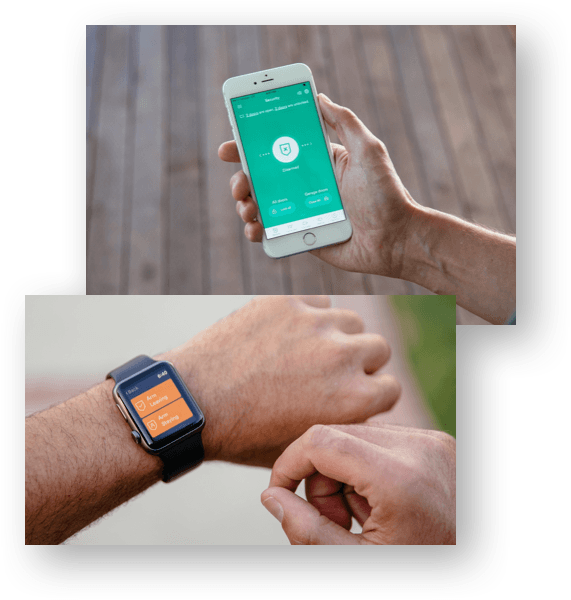 How the Vivint Smart Home® App Makes Security Easier
Helpful alerts. Your Smart Hub™ will ping your app if anything seems off—and you can instantly lock deadbolts or turn off lights as a result.
Remote surveillance. If you have Vivint security cameras, you can view live footage or clips remotely thanks to Vivint Playback™.
Everything in one place. All Vivint products sync to your Vivint Smart Hub—which syncs to your app for thorough, effortless mobile control.
Good-looking and easy to use. iOS users rate the app 4.6 of 5 stars on average.
Learn More about the App
Product Specs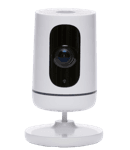 Color

bg-white

Weight

1.05 lbs

AC adapter

Input: 100-240V @ 50-60Hz AC, 0.2A
Output: 12VDC, 1.5A

Size

5.2"h x 3.2"d

Video resolution

Full HD 1080p

Field of view

155º horizontal, 80º vertical

Night vision

3 high-powered infrared LEDs (850nm) with IR cut filter

Audio

Built-in speaker and microphone

Connectivity requirements

Wi-Fi connection: 802.11 b/g/n @ 2.4 GHz

Works best with

1.5 Mbps upload

Product protection plan

Free replacement for defective hardware if subscribing to a Vivint service plan. (May require a separate site visit fee.) For product defects only. Does not include product failure due to abuse, normal wear and tear, acts of God, etc. as determined by a Smart Home Pro.
Frequently Asked Questions
How do I reset my Ping camera?
Unplug your Vivint Ping camera.
When plugging the cord back in, press the button on top of the camera and hold it down until the light turns red.
Your smart home camera will cycle through a series of lights. When the light turns green, this means that the camera is ready to connect back to your system.
How do I get my Vivint indoor camera online?
Make sure your camera is plugged into a working outlet.
Reboot your smart home system panel.
Unplug your camera for about 30 seconds, then plug it back into the outlet to restart it.
You can also restart your router by unplugging it, then plugging it back in.
Does Vivint require internet?
Vivint Smart Home is a cellular-based home automation and security system. It depends on a cellular connection to function, not the internet.
How do I reconnect my Vivint home security camera to Wi-Fi?
On the home screen of your Vivint smart home system panel, tap the "Menu" icon.
Press the "General" option.
When prompted, enter your 4-digit PIN number.
Press "Connectivity."
Press the "Wi-Fi" option.
Select "Reboot Network Module."
Wait a few minutes for the system to start back up. Once it's on, test your camera to make sure the reboot was successful.
Call 1-833-367-0577 or complete the form for a free quote.
Looks like there's an issue submitting your form.
Ensure your ad-blocker is disabled and submit again, or call us to complete your order!
Get Your Free Quote!
Get Your Free Quote!
Your quote is ready!
Call the number below to get details from a Vivint Smart Home security specialist.
1-833-367-0577
Looks like there's an issue submitting your form.
Ensure your ad-blocker is disabled and submit again, or call us to complete your order!