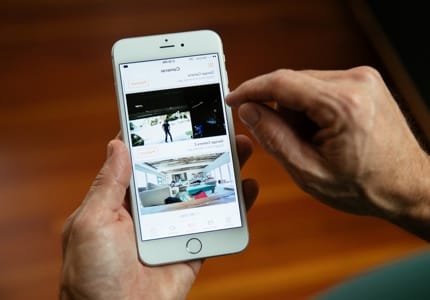 Get Instant Alerts the Moment a Window Breaks with Glass Break Sensors
When a window breaks in your home, it could mean an intruder's not far away. But what if you're not there to hear it? The latest GB2 Vivint Glass Break Sensor is your answer. Equipped with a high-frequency microphone and a 360-degree horizontal sensing angle, this wireless glass break sensor alerts you the moment glass forcibly breaks in your home.
While Vivint Smart Sensors notify you when a door or window opens, they won't alert you if one breaks. So the Vivint Glass Break Detector adds that extra level of protection to round out the security of your Vivint smart home.
Tamper-proof switch
Instant alerts through the Vivint Smart Home® App
Two-way talk though the Vivint Smart Hub™
360-degree horizontal viewing angle
Dual-shatter recognition
Upgrade Your Security with Smart Features
The Vivint Glass Break Sensor comes equipped with quality features for a home security boost you can trust.
High-Frequency Microphone
Packed with a 345 MHz audio microphone, the Vivint window break sensor detects the unique frequency of glass forcibly breaking while ignoring other sounds, so you can take action only when necessary.
Dual-Shatter Recognition
This window glass break sensor listens for two clear sounds—a thud and a shatter—to intelligently detect forced entry while avoiding a false alarm from your dog jumping up on the sliding-glass door.
Three Sensitivity Settings
Vivint understands each room has variations and noise levels all its own. That's why the glass break alarm offers low, medium, and high sensitivity settings that detect sound from 5, 10, or 15 feet away.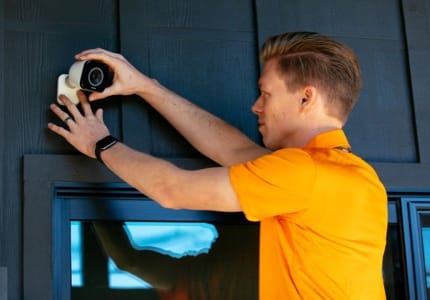 Precise, Professional Installation by Vivint Smart Home Pros™
Vivint is committed to giving you quality service at every step, including installation. That's why Vivint carefully vets and trains every installation tech it hires, and never outsources the job to third-party dealers. Feel more comfortable and confident on installation day knowing that your Vivint Smart Home Pro™ will get the job done right.
Professional Installation, $0 Activation
Product Specs

Color

bg-white

Size

3.9" H x 2.6" W x 0.9" D

Frequency

345 MHz

Mounting

Screws and bracket

Battery

2 CR123A batteries

Battery Life

3–5 years

Warranty

Limited warranty

Product Plan Protection

Free replacement for defective hardware if subscribing to a Vivint service plan. May require a separate site visit fee. For product defects only. Does not include product failure due to abuse, normal wear and tear, acts of God, etc. as determined by a Smart Home Pro.
Frequently Asked Questions
How do you reset a Vivint Glass Break Detector?
Simply disarm your system, remove the batteries and wait 20–30 seconds, then re-insert the batteries. You're all reset! Fun fact: you can change out your Vivint Glass Break Battery using the same method.
How do you test a Vivint Glass Break Sensor?
You can test your glass breakage detector in a couple easy steps. First, disarm your system via the Smart Hub™ panel and tap System Test under Menu > Security. This allows you to test your system without triggering a false alarm. Next, remove the cover of your wireless glass break detector and send a tamper signal to determine whether your device is communicating with your Smart Hub™ panel.
How do glass break sensors work?
Glass break detectors work by using a high-frequency microphone to listen for the distinct frequency of breaking glass. Once detected, the glass break alarm will notify you via the Vivint Smart Home® App.
Call 1-833-365-1443 or complete the form for a free quote.
Looks like there's an issue submitting your form.
Ensure your ad-blocker is disabled and submit again, or call us to complete your order!
Get Your Free Quote!
Get Your Free Quote!
Your quote is ready!
Call the number below to get details from a Vivint Smart Home security specialist.
1-833-365-1443
Looks like there's an issue submitting your form.
Ensure your ad-blocker is disabled and submit again, or call us to complete your order!