Vivint Security in Calgary, AB
Protect Your Home and Everyone in it
Living in a city with over a million people means that property crimes, like burglary, are a reality of life in Calgary. The city alone reported over 4,500 cases of residential breaking and entering, according to Calgary police statistics. Fortunately, you can add an extra line of defense between yourself and would-be burglars by signing up for a Vivint home security system.
From Beltline to Riverbend, Calgary residents can get top-of-the-line technology and features from Vivint. Not only can you enjoy round-the-clock recording and infrared technology with Vivint's indoor and outdoor cameras, but you also get 24/7 monitoring and the latest technology to secure your home. Vivint packages are fully customizable, meaning you can get exactly what you need without paying extra for things you don't. So whether you need the two-way communication capabilities of the indoor Ping Camera or automatic door locks you can control from your phone, Vivint has you covered. Get a home security partner you can count on: call now at 1-833-361-0114to learn more about Vivint in Canada.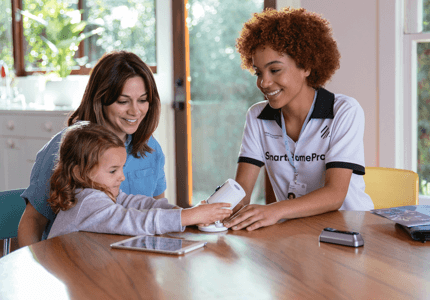 Calgary reported over
4,500
cases of residential breaking and entering
What Will You Get with Vivint Systems in Calgary?
Vivint Security customers in Calgary have a lot of choices when it comes to their home security features, and the ideal package varies from person to person. While many Canadians opt to include outdoor cameras for exterior surveillance, you may find that an indoor camera is better suited to your needs. And the beauty of it is that Vivint allows you to pick and choose the best features to protect your home. Whether you want door and window sensors, glass break sensors, or motion sensors, Vivint has everything you need to help protect your home from intruders.
Of course, Vivint's smart home security options can do more than protect your property from break-ins. Many Calgary customers also like to include carbon monoxide detectors, flood detectors, and smoke detectors to protect their families from other threats. And when you pair your home security devices with smart devices like automatic door locks, garage door controls, and your Amazon Echo, your home can become a haven of security and convenience.
Transforming Your Calgary House into a Vivint Smart Home
Getting Vivint Smart Home services isn't just affordable: it's also as simple and comprehensive as possible! With a Vivint home automation package, you can easily communicate with your home, establish preferences, and receive notifications anytime something crucial happens.
For starters, every Vivint smart home system includes remote control over your system via the Vivint Sky app and a Vivint SkyControl Panel, a user-friendly interface that lets you control home automation features from anywhere in the world. From there, you can turn your lights on and off, arm your security system, and even call for help in an emergency. You can even integrate your system with the Nest thermostat. Pairing your Nest with the Vivint Sky app allows your Nest to better memorize your patterns and maximize your energy efficiency for more savings.
That's just the beginning! With Vivint, you can also enjoy:
The Vivint Doorbell Camera
Instant 2-way communication via Vivint's Ping Camera
Remote lighting and appliance control
Amazon® Echo Compatibility
To get the height of technology for your home in Calgary, call 1-833-361-0114 and get a quote today.
Protect What Matters Most—Get a Free Vivint Home Security Quote Today
Looking to make your home safer? A personalized Vivint quote can help you figure out how much it'll cost. With Vivint, you can build a package that's uniquely tailored for your home, family, and lifestyle. Prices vary depending on the services and devices you choose, so don't wait! Fill out the form or give us a call at 1-833-361-0114to get started.
Get Your Free Quote!
Get Your Free Quote!
Your quote is ready!
Call the number below to get details from a Vivint Smart Home security specialist.
1-833-361-0114
Looks like there's an issue submitting your form.
Ensure your ad-blocker is disabled and submit again, or call us to complete your order!