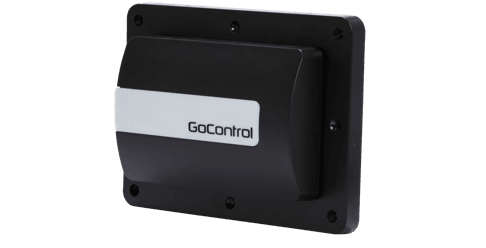 Improve Your Garage Door Security
Have you ever left home for work or vacation only to realize you can't remember if you closed the garage door before you left? If so, then you know exactly how important—and challenging—garage door security can be.
Simplify your home security by adding the Vivint garage door remote control to your smart home setup. Close your garage door while you're at work or open it when you're close to home through the Vivint Smart Home® App. The Vivint smart garage door controller provides protection and time-saving automation for one of your home's main entry points.
Vivint Garage Door Control Features
The Vivint Garage Door Control includes both a garage door monitor and garage door sensor, which allow you to check the status of your garage door and open or close it when needed.
Mobile Connectivity
Pair your garage door controller with the Vivint Smart Home® App to control your garage door directly from your phone. Whether you're at work, running errands, or at home, you'll be able to keep tabs on your garage.
24/7 Updates
Set your preferences and receive notifications from your smart garage door sensor at any time. Your system will alert you if your garage door is left open and any time it opens or closes, so you'll always be aware of who's coming and going.
Smart Home Integration
Enhance your home's security by making the Garage Door Control part of your whole home solution. It works with your existing Vivint smart home technology to provide all-encompassing protection.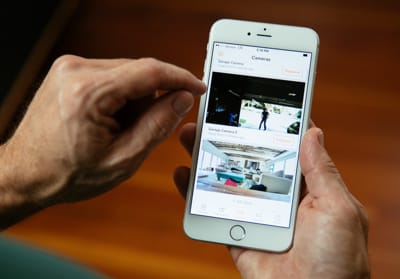 Mobile Access Wherever You Are
Pair your Garage Door Control with the Vivint Smart Home® App and you'll never have to rush home to check if your garage door is closed again. The app syncs with all of your Vivint smart home devices to give you full control of your garage door, cameras, and locks from wherever you are.
Learn more about the Vivint Smart Home® App
Tampering Detection
In the event that anyone attempts to tamper with your smart garage door opener—or the door itself—your Garage Door Control System will detect the incident, notify you through your Vivint Smart Home App, and sound a garage door alarm. Vivint's 24/7 monitoring team will then assist you with these next steps if needed:
A Vivint monitoring agent will contact you about the triggered alarm.
The Vivint security professional will determine whether the situation is dangerous or needs further attention.
The agent will dispatch emergency personnel to your home if deemed necessary.
Keeping Your Garage Safe and Secure
When it comes to your home's safety, it's crucial to be prepared for anything. The Vivint smart garage door opener is an effective home defense, but there are always additional precautions you can take to add extra layers of protection to your garage.
Frosted Windows
You're far less likely to have a potential burglar breaking into your garage if they can't see what's inside. Frosted garage windows are a simple way to deter prying eyes from scoping out property you'd rather keep out of sight.
Smart Locks on Interior Doors
Further protect your home by installing smart locks on any doors leading into the garage. Lock or unlock the door remotely with a code through the Smart Home App, get a notification anytime the door opens, and an alert if someone tries to force entry into the house.
Motion Sensor Lights
Install motion sensor lights in your garage to scare off prowlers and alert you to movement where there shouldn't be any. If motion is detected, you'll receive a text notification on your Vivint Smart Hub or through the Smart Home App, so you can instantly be aware of potential trespassers.
Precise, Professional Installation by Vivint Smart Home Pros™
Vivint is committed to giving you quality service at every step, including installation. That's why Vivint carefully vets and trains every installation tech it hires, and never outsources the job to third-party dealers. Feel more comfortable and confident on installation day knowing that your Vivint Smart Home Pro™ will get the job done right.
Professional Installation, $0 Activation
Product Specifications

Size

1.38"h x 6.94"w x 5.0"d

Operating Temp

-4° to 122°F

Strobe

360 lumens

Power Usage

120 VAC, 0.8A input; 12 VDC, 2 A output

Audible Alarm

45 dB @ 10 feet

Connectivity

Z-Wave

Mounting

Screws and anchors to the ceiling, or bracket to the opener's hanging hardware

Required Panel Firmware

Version 2.3 or greater

Product Protection Plan

Free replacement for defective hardware if subscribing to a Vivint service plan (may require a separate site visit fee). For product defects only. Does not include product failure due to abuse, normal wear and tear, acts of God, etc. as determined by a Smart Home Pro™.
Call 1-833-783-1981 or complete the form for a free quote.
Looks like there's an issue submitting your form.
Ensure your ad-blocker is disabled and submit again, or call us to complete your order!
Get Your Free Quote!
Get Your Free Quote!
Your quote is ready!
Call the number below to get details from a Vivint Smart Home security specialist.
1-833-783-1981
Looks like there's an issue submitting your form.
Ensure your ad-blocker is disabled and submit again, or call us to complete your order!