A Safer Home Starts at the Front Door.
The Vivint Doorbell Camera Pro™ takes the mystery out of who's at the front door and acts as the first line of defense against unwanted visitors and the welcome gate to friends and family. Your wireless doorbell camera relies on a wide scope of features to ensure your home's safety, such as:
High-resolution camera
Night vision
2-way talk, 1-way video
Advance notification of visitors
180º wide-angle lens
24/7 Playback
Your doorbell security camera is also fully integrated with your smart home system, which allows you to customize features such as the doorbell chime, notifications, and light and video settings. The Vivint Doorbell Camera Pro™ brings your home one step closer to smarter, safer capabilities by allowing you to keep an eye out at all times.
Smart Motion Detection Doesn't Allow for Surprises.
It's hard to be at ease when your security system keeps sending you alerts that turn out to be for a tree branch blowing in the wind, or a shadow passing over your front door camera. The Vivint Doorbell Camera Pro™ system uses Smart Motion Detection, progressive technology that distinguishes movement made by a person from that of things like the occasional passing car. But don't worry—unwanted visitors will still find it impossible to sneak up on your home without you knowing it. Package pirates have met their ultimate match.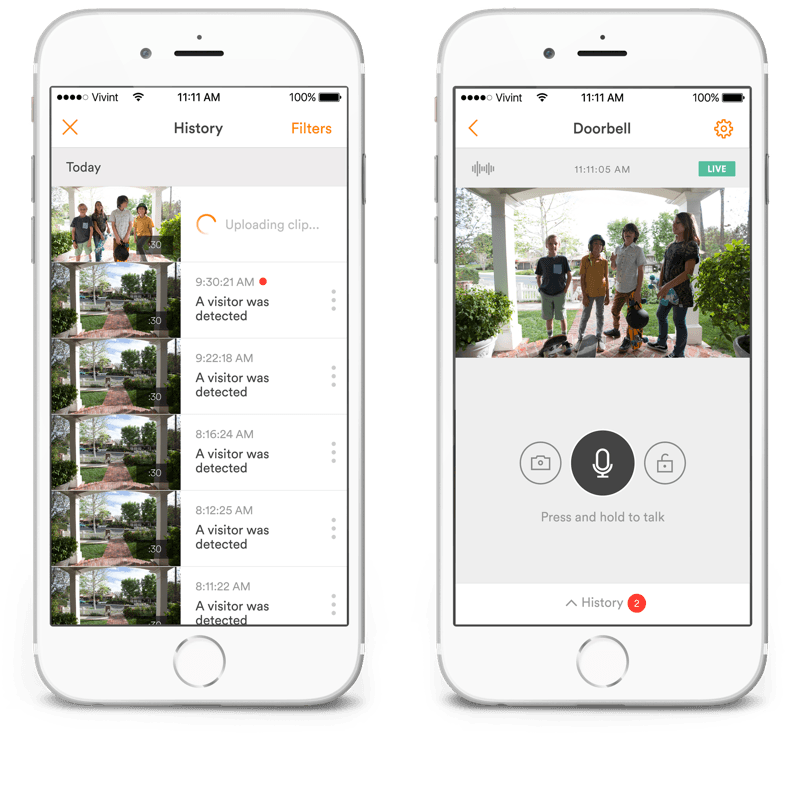 How the Vivint Smart Home® App Makes Security Easier.
Helpful alerts.
Your system will ping your app if the Outdoor Camera Pro spots a lurker—and you can instantly lock deadbolts, turn off lights, or chase off intruders as a result.
Remote surveillance.
View live footage or clips remotely thanks to Vivint Playback™.
Everything in one place.
All Vivint products sync to your Vivint Smart Hub™—which syncs to your app for thorough, effortless mobile control.
Good-looking and easy to use.
iOS users rate the app 4.6 of 5 stars on average.
Learn More about the App
24/7 Playback Means 24/7 Monitoring.
Vivint offers an upgrade that provides 24/7 playback for all its camera products. Your wireless front door camera will upload recordings to the Vivint Smart Drive™, accessible from any web-enabled device. You can view these recordings via your Vivint Smart Home® App (the wireless connectivity also prevents your Wi-Fi from being overloaded). Never worry about losing important footage when you have it constantly at your fingertips.
Your Front Porch Just Got a Lot Smarter.
Accept deliveries, greet guests, and startle sketchy visitors with the Vivint Doorbell Camera Pro™.
Doorbell Camera Specifications.
Field of View

180º

Video

Encoding up to 720p HD

Camera Lens

1.3 megapixel sensor

Night Vision

2 high-powered infrared LEDs (850 nm)

Audio

Built-in speaker and microphone

Size

Approx. 4.45"h x 1.50"w x 1.18"d

Power Usage

12-24 VAC or DC, 1.0A min.

Connectivity Requirements

Wi-Fi connection: 802.11 b/g/n @ 2.4 GHz
Frequently Asked Questions.
How much is a Vivint Doorbell Camera Pro™?
The Vivint Doorbell Camera™ is included in the Smart Home Video plan, which starts at $49.99 per month. If purchased by itself, the camera costs $249.99.
Does Ring doorbell work with Vivint?
The Ring doorbell is not compatible with the Vivint Smart Home system. Vivint provides a doorbell camera in conjunction with its own technology.
Does the Vivint Doorbell Camera Pro™ have a battery?
The Vivint Doorbell Camera operates with a lithium battery that operates for up to 5 years.
How do I reset my Vivint doorbell?
Press and hold down your doorbell camera button for 10-15 seconds.
The bell will chime when you first press it. Keep holding it until the light turns yellow for a second time.
Release the button and wait for the light to turn solid white. When the light turns white, that means that it has been reset.
Do doorbell cameras record at all times?
Some doorbell video cameras continuously record, while others only record when motion is detected. The Vivint Doorbell Camera is motion-sensored, and begins recording with movement.