All Vivint equipment, all in one place
Build your dream smart home with home security equipment from Vivint.
Home security and surveillance equipment
Vivint offers a wide selection of top-quality smart home products and home security equipment, so you can automate your home with ease. Customize your package by including your pick of Vivint home automation accessories. When you buy Vivint equipment, you'll increase the security of your home while adding convenience to your every day. Take a peek at the smart home security equipment and devices below to discover your options.
Vivint home security equipment overview
Vivint understands that each household is unique. That's why when you buy Vivint equipment, you get the freedom to choose the home security equipment needed to build a Vivint alarm system that best suits your home. Simply pick the Vivint compatible equipment that fits your household to create a customized package you're sure to love.
Door and Window Sensors
Door and window sensors use magnets and motion sensors to notify you when a door or window opens. Ensure you don't have any unwanted visitors entering your home.
Recessed Door Sensor
Another way to keep your doors in check, the recessed door sensor is tamper-proof, notifying you when someone comes through.
Motion Sensor
Place one or ten motion sensors in your home to protect every nook and cranny. With infrared technology, motion sensors notify you when there's movement in places there shouldn't be.
Tilt Sensor
Thieves don't just enter through windows and doors. Place the tilt sensor in your garage to protect your vehicles and any other valuables while also ensuring no one enters through that personal entrance.
Glass Break Detector
A break or a crack, the glass break detector will notify you if a window or a glass pane is tampered with. Using dual shatter recognition technology, you'll always know when your glass needs attention.
Key Fob
The Vivint Key Fob is the most versatile equipment Vivint offers. Arm or disarm your security system from a distance, lock and unlock your doors when leaving or arriving, and press the panic button in case of an emergency.
Panic Pendant
The panic pendant is vital in case of an emergency, allowing for two-way communication between yourself and a trained professional.
Carbon Monoxide Detector
Carbon monoxide won't sneak up on you with the carbon monoxide detector. The alarm will sound immediately when elevated levels of carbon monoxide are detected in your home.
Smoke Detector
With a smart smoke detector, your security system works together to detect the smoke, contain the fire through a smart thermostat, and unlock your doors so you can get to safety quickly.
Water Leak Detector
The water leak detector will notify you quickly if water starts to cover the sensor. It can also monitor extreme temperature changes, letting you proactively stop leaks from happening in the first place.
Lamp Module
Control all your lights and appliances with the Vivint Lamp Module. Features include dimmer controls, scheduling capability, and vacation mode.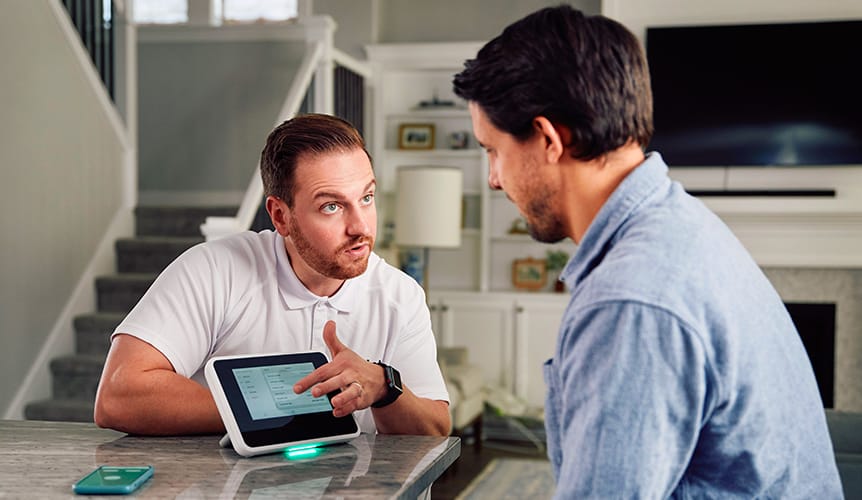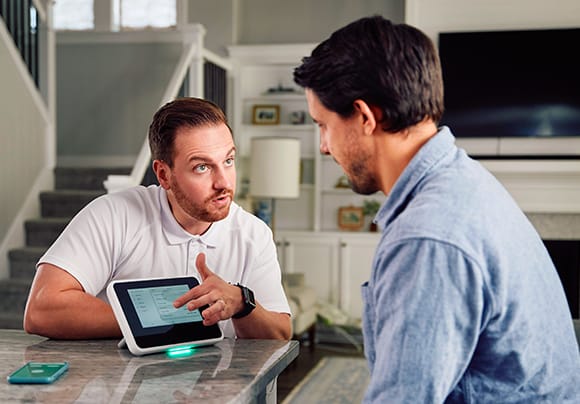 Keep it smart with Vivint
What works with Vivint works for you, so you can stay safe and protected while keeping your smart home intact. Vivint equipment works seamlessly with additional Vivint components but plays nice with others as well. Vivint compatible equipment can integrate with your Vivint equipment without any issues. With Alexa and Google Assistant products, you can make sure your house is protected with the sound of your voice.
Call 1-833-792-2668 or complete the form for a free quote.
Looks like there's an issue submitting your form.
Ensure your ad-blocker is disabled and submit again, or call us to complete your order!
Get Your Free Quote!
Get Your Free Quote!
Your quote is ready!
Call the number below to get details from a Vivint Smart Home security specialist.
1-833-792-2668
Looks like there's an issue submitting your form.
Ensure your ad-blocker is disabled and submit again, or call us to complete your order!