How a Keyless Entry Door Lock Forms Your Home's Initial Line of Defense
Most burglars aren't masterminds. Intruders often access your home at its easiest entry point: the front door. So keep your game plan simple. Install keyless door locks at your home's main entry points to monitor who comes and goes and any unauthorized entry.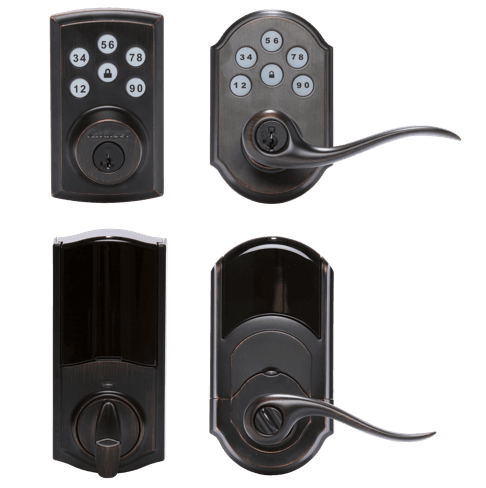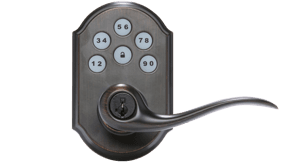 Vivint Kwikset® Smart Lock Features
Vivint electronic keyless door locks give you complete control over every entrance to your home. Each streamlined lock monitors your home's entries and exits and tracks them with the Vivint Smart Hub control touchpad and Smart Home® App. Vivint electronic keyless door locks operate with a tap on a screen, so there's no need to worry about losing—or making copies of—keys.
When you use the Vivint Smart Home® App, you'll be able to lock or unlock any smart door lock in your home from wherever you are. No matter the time of day, the Vivint Kwikset® Smart Lock secures your home and the things you value most.
Comes in three finishes to complement any home decor
Unlocks via the Vivint control touchpad or Smart Home App
Integrates with the rest of your Vivint smart home locks and accessories
Notifies you in real time whenever your doors lock or unlock
Allows you to create up to 30 unique entry codes so you always know who's entering your house
1%
of burglars enter through the front door.
Don't become a statistic. With smart locks and keyless entry door locks, you'll always be aware of who goes in and out of your home.
Choose from Three Sleek Designs
Your home's exterior is an important reflection of you, and your Smart Door Lock and other Vivint Smart Home accessories will reinforce the hard work you've put into your home's appearance. The Smart Door Lock comes in three sleek finishes: brass, nickel, and bronze. Choose the one that best complements your home's exterior.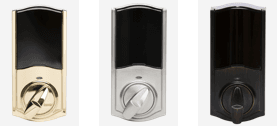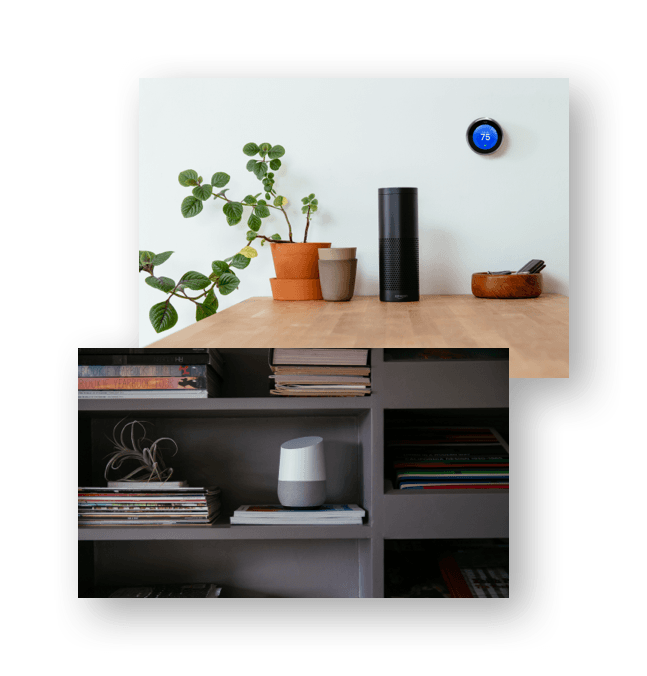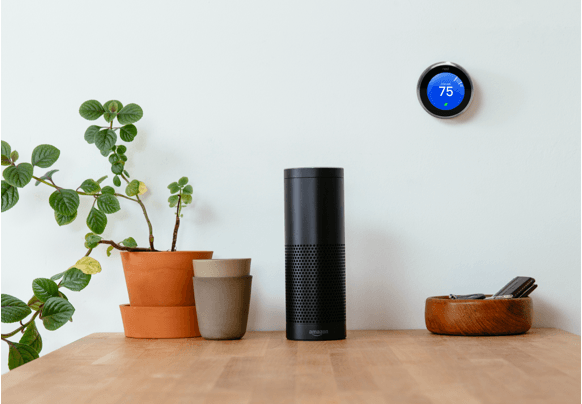 Pair the Kwikset® Smart Lock with Your Entire Vivint System
The Vivint Kwikset® Smart Lock pairs with virtual assistants like Google Home and Amazon Alexa for total hands-free control. If your arms are full, or you're busy around the house and your kid starts pounding on the door because they forgot their key, simply unlock the door with a spoken command.
Your Vivint smart home door lock also pairs with:
Smart thermostats
Smart lights
Other installed smart locks
With complete smart home and security integration, you can set your locks on a schedule or create scenes for specific times of the day. For instance, program your lights to turn off, doors to lock, and temperature to turn down whenever you leave the house.
Learn More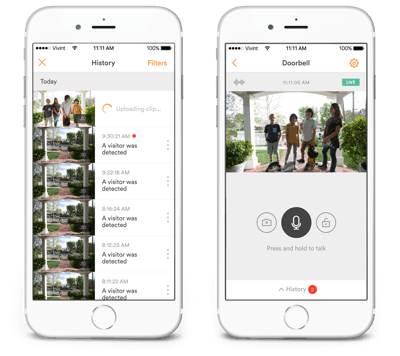 Vivint Smart Home® App
Helpful alerts.
Your Smart Hub™ will ping your app if anything seems off—and you can instantly lock deadbolts or turn off lights as a result.
Remote surveillance.
If you have Vivint security cameras, you can view live footage or clips remotely thanks to Vivint Playback™.
Everything in one place.
All Vivint products sync to your Smart Hub™—which syncs to your app for thorough, effortless mobile control.
Good-looking and easy to use.
iOS users rate the app 4.6 of 5 stars on average.
Learn More
Hear Your Doorbell from Anywhere
Missing a visitor because you're not home to hear the doorbell is now a thing of the past. Vivint's Kwikset® Smart Lock and Doorbell Camera pair perfectly to fully monitor your home's entrance. The smart doorbell immediately notifies you anytime it rings and allows you to communicate with visitors through your smartphone. Once you know who's at the door, you can unlock any of the keyless door locks in your home. Concerned about giving forgetful kids their own house keys? Vivint allows you to "greet" your children at the door each day, let them in, and relock the door behind them.
Get a doorbell camera today
Product Specs

Color

Brass, Nickel, or Bronze

Power Usage

4 AA batteries

Connectivity

ZWave 500 Chipset

Size

Deadbolt: 5.78"h x 2.72"w x 1.94"d (interior), 4.59"h x 2.66"w x 1.19"d (exterior)

User Codes

Up to 30 codes

Wireless

Range 50+ feet

Requirement Panel Firmware

Version 3.7 or greater

Product Protection Plan

Free replacement for defective hardware if subscribing to a Vivint service plan. (May require a separate site visit fee.) For product defects only. Does not include product failure due to abuse, normal wear and tear, acts of God, etc. as determined by a Smart Home Pro.
Frequently Asked Questions
Which smart locks work with Vivint?
Any wifi door lock that uses Z-wave technology will work with a Vivint smart home system. So, if your home already has different smart locks installed but you're switching to Vivint monitoring, you may not need to replace your existing digital door lock. Any keyless door lock that Vivint sells will be compatible with the system. If you're unsure whether a specific lock will work, call a representative today to see which smart lock models are the best for your home.
How much does the Vivint Kwikset® Smart Lock cost?
The cost of a Vivint system varies widely based on the individual, so it's best to call and speak with a representative to determine an accurate cost for your needs. That being said, you can plan to pay an installation fee, a fee for the device—in this case the Smart Lock—itself, and other fees associated with the Vivint Smart Home® App and monthly monitoring.
How do I add a Smart Lock to my Vivint Smart Home?
The simplest way to add a Smart Lock—or any additional accessories—to your Vivint smart home setup is to call. A Vivint representative will answer any questions you have about the number of Smart Locks that are best for your home and will walk you through installation and integration with the rest of your Smart Home accessories. Once you have your new Smart Lock, you can add it quickly and easily in a few steps.
Press the home button on your Vivint console
Select "Services"
Then, select the wrench icon
Type your 4-digit pin when prompted
Select "Add Devices"
Remove the covering on the back of your Smart Lock and press the color-white button one or two times
Check your console. It should now recognize your new Smart Lock.
Call 1-855-577-0625 or complete the form for a free quote.
Looks like there's an issue submitting your form.
Ensure your ad-blocker is disabled and submit again, or call us to complete your order!
Get Your Free Quote!
Get Your Free Quote!
Your quote is ready!
Call the number below to get details from a Vivint Smart Home security specialist.
1-855-577-0625
Looks like there's an issue submitting your form.
Ensure your ad-blocker is disabled and submit again, or call us to complete your order!