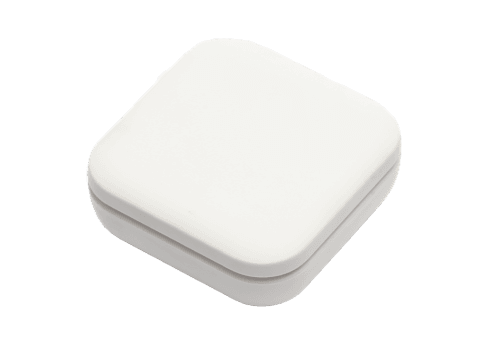 Heat Detector vs. Smoke Detector: What's the Difference?
A heat detector uses an internal thermometer to alert you of high in-home temperatures that can lead to (1) heat exhaustion in people and pets and (2) serious but slower-burning problems like rust, mold, poor insulation, or water damage in your home.
A smoke detector, on the other hand, relies on chemical changes in the air, infrared heat signatures, or both to sniff out fires. Smoke detectors don't usually alert you to smaller changes in temperature because it's a given that fire burns hundreds of degrees hotter than a house with no AC or insulation, so smoke is a much more effective signal.
Smoke and heat sensor alarms aren't often combined into one device, but heat and freeze detectors are because the detection mechanism is so similar. The Vivint heat sensor is a perfect example of this—it's engineered to detect extreme temperatures on either end of the scale. While it doesn't set off an actual alarm, it alerts you to potential problems through your Vivint Smart Home® app.
Vivint Heat and Freeze Alarm Features
Temperature Monitoring
The Vivint freeze and heat sensor sends immediate notifications to your app when the in-home temperature falls below or rises above your specified range, so the kitties don't suffer heat exhaustion if the AC breaks—or hypothermia if the furnace pilot light goes out while you're away.
Moisture Monitoring
Extremely hot or cold in-home temperatures can rust appliances or freeze pipes, leading to leaks and flooding. To help you catch these problems early, Vivint's heat temperature sensor and freeze alarm senses moisture and notifies you when at least ¼ inch of water covers the 470PB probe.
Tamper Resistance
Burglars probably won't mess with your freeze and heat alarm—but pets and kids just might. Vivint's cordless, wireless heat sensor and freeze sensor can be placed on the floor or directly on appliances, so tamper alerts are key to keeping sensors intact with little ones around.
1%
More than 70% of heat stroke deaths occur in children younger than 2.
Source: Health Research Funding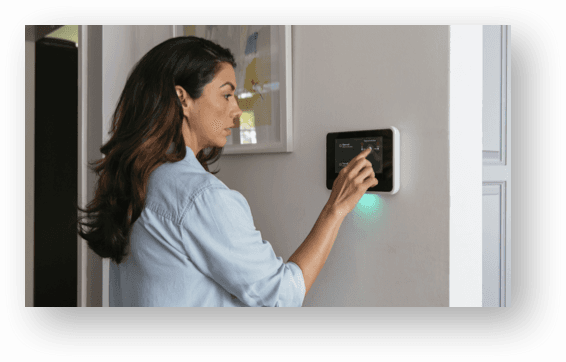 Vivint's Emergency Response Time Averages 8 Seconds
The Vivint system sensor heat detector alerts you, not the Vivint monitoring center, of temperature fluctuations in your home while you still have time to fix them. That way, first responders can focus on criminal or immediately life-threatening events, like a burglary or carbon monoxide leak. But rest assured—when your home is the one with the siren sounding, a Vivint security agent will call within about 8 seconds to verify the alarm, contact the police and fire department, and help you decide what to do next. Here are even more reasons to trust Vivint monitoring when it matters:
24/7 monitoring ensures safety day and night
8-second average response time beats the industry average by 52 seconds
Monitoring center staffs highly trained, in-house specialists, never outsourced hires
The center won 2017 Monitoring Center of the Year1 for excellent service and dependability
Learn More about Vivint Monitoring
Professional Installation for Your Vivint Freeze and Heat Detector Alarm
Vivint is committed to giving you quality service at every step, including installation. That's why Vivint carefully vets and trains every installation tech it hires, and never outsources the job to third-party dealers. Feel more comfortable and confident on installation day knowing that your Vivint Smart Home Pro™ will place heat detectors for garages, attics, and kitchens in the spots that are most effective.
Professional Installation, $0 Activation
Vivint Freeze and Heat Alarm Specifications

Color

bg-white

Size

2.5" H x 2.5" W x 1" D

Frequency

345 MHz

Battery

CR123A 3V lithium battery

Battery life

3–6 years

Relative humidity

5%–95% non-condensing

Protection plan

Free replacement for defective hardware if subscribing to a Vivint service plan. (May require a separate site visit fee.) For product defects only. Does not include product failure due to abuse, normal wear and tear, acts of God, etc. as determined by a Smart Home Pro™.
Call 1-833-367-0594 or complete the form for a free quote.
Looks like there's an issue submitting your form.
Ensure your ad-blocker is disabled and submit again, or call us to complete your order!
Get Your Free Quote!
Get Your Free Quote!
Your quote is ready!
Call the number below to get details from a Vivint Smart Home security specialist.
1-833-367-0594
Looks like there's an issue submitting your form.
Ensure your ad-blocker is disabled and submit again, or call us to complete your order!