Vivint's Outdoor Security Camera
A smart, highly personal way to safeguard your home.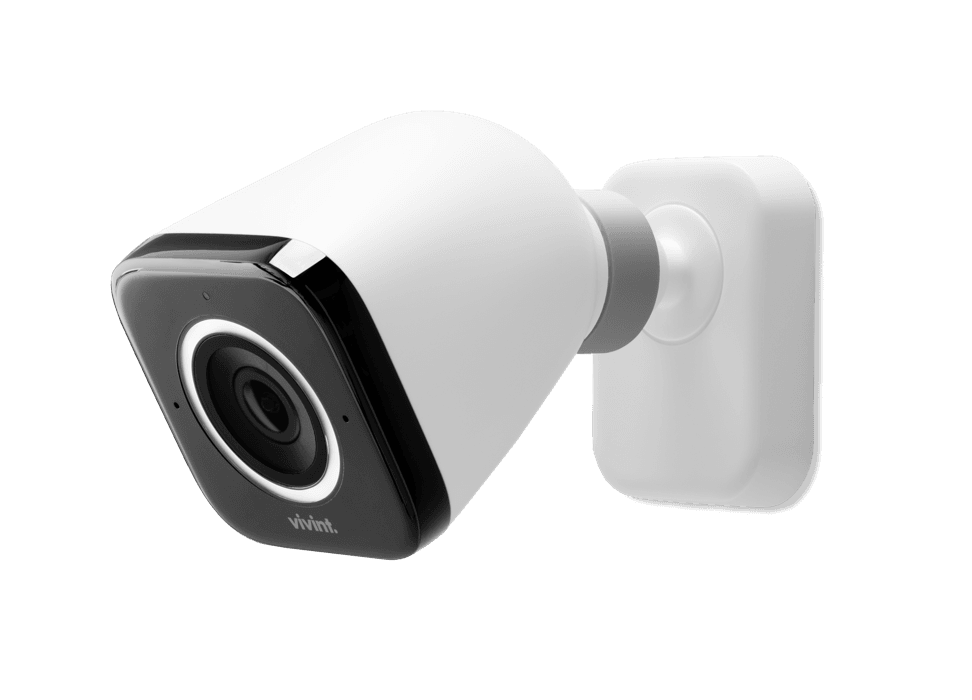 Vivint Outdoor Camera Pro: A Window Where You Want It.
Vivint smart outdoor security cameras watch your home when you can't, so you can focus on the people inside instead of those who might be coming in uninvited. Fully integrate your exterior security cameras with your Vivint smart home system and receive notifications immediately, or check in on your live surveillance feed anytime you need to. A sturdy, all-weather design protects your camera from tampering and elements such as extreme temperatures, wind, dirt, and precipitation. Experience the latest in Vivint security technology:
1080p HD video quality and a 4K image sensor show all the details
Sleek, discreet design looks sophisticated yet blends in
Infrared LED night vision means clear images even in the dark
Smart person-detection clips get created automatically
Wi-Fi and Ethernet connectivity improve performance
Smart Sentry™ proactively discourages thieves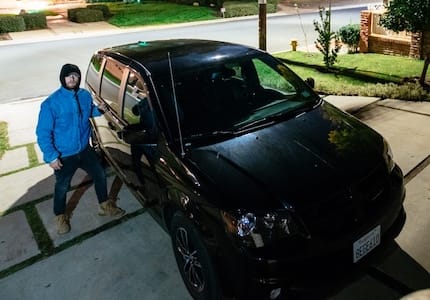 One of the Sharpest-Shooting Security Cameras on the Market.
Like all Vivint cameras, the Outdoor Camera Pro comes with infrared LED night vision and HD resolution. But one unique feature is its 4K image sensor, which makes it possible to zoom in up to 10 times (3 for full HD quality) and still see distinct facial features or license plate numbers. The Outdoor Camera Pro also has a 140-degree lens so even conniving burglars have trouble avoiding detection.

1%
of convicted burglars confirmed that the presence of a security camera would deter them from a property.
Outdoor Camera Pro Features.
Without security features, a camera is just a camera—and there are plenty of cameras out there. Find out what makes Vivint outdoor security cameras stand out:
Two-Way Talk
With this feature, you and your camera become partners in crime prevention. The Pro immediately tells you when someone's lurking and easily patches your voice through so you can chase the perps off with whatever warning you choose.
Smart Home Integration
The Pro connects with your entire Vivint smart home, letting you monitor all your devices from a single app. Most importantly, the camera creates clips based on triggers from other security devices in your home—from a window sensor, for example.
Hybrid Wi-Fi
Blending Wi-Fi and Ethernet results in two major benefits. First, camera performance is exceptional, making picture quality crystal clear and reliable. Second, Ethernet puts less stress on your Wi-Fi network, freeing up bandwidth for other devices.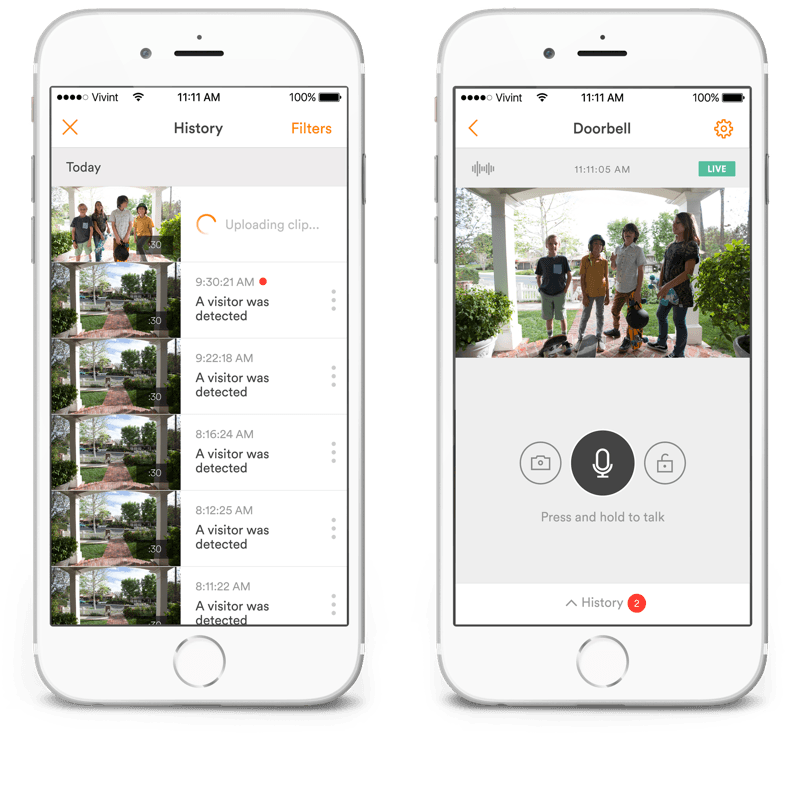 How the Vivint Smart Home® App Makes Security Easier.
Helpful alerts.
Your system will ping your app if the Outdoor Camera Pro spots a lurker—and you can instantly lock deadbolts, turn off lights, or chase off intruders as a result.
Remote surveillance.
View live footage or clips remotely thanks to Vivint Playback™.
Everything in one place.
All Vivint products sync to your Smart Hub™—which syncs to your app for thorough, effortless mobile control.
Good-looking and easy to use.
iOS users rate the app 4.6 of 5 stars on average.
Smart Cameras Connect and Protect with Voice and HD Video.
See—and sometimes talk to—the people in and around your house with Vivint's smart HD cameras.
Vivint Outdoor Camera Pro Specifications.

Max Video Resolution

1080p

Image Sensor

4K Ultra HD with High Dynamic Range

Size

2.8" W x 5.9" D

Clip Length

Event-based 10—90 seconds

Zoom

3x HD Zoom, 10x Digital

Night Vision Range

40'

Connectivity

Ethernet and Wi-Fi Bridge combination

Field of View

140°

Speaker

85 dB

Microphone

Two far-field mics with echo canceling

Weatherproof Rating

IP 65

Still Photographs

High-resolution photos saved to your mobile device
Frequently Asked Questions.
How much does a Vivint Outdoor Camera Pro cost?
The Vivint outdoor security camera is included in the Smart Home Video plan, which starts at $44.99 per month. If purchased by itself, the camera costs $399.99.
Can I add cameras to my Vivint system?
Vivint security cameras have to be installed by a Vivint Smart Home Pro, but after the initial install, you may be able to add others. Follow the steps below to install additional cameras:
Find the WPS button on your Wi-Fi router (look for the flashing LED light or WPS symbol).
Find and press the WPS button on your camera.
Wait for the light on the camera to turn green.
Sign in to your Vivint account online at www.vivint.com by entering your email address and password.
Click on "Control This Home."
Select "Video," and then "Settings."
Select "Add Video Device."
The camera you've installed should come up as an option on the screen. If it doesn't, manually enter the Mac ID number.
Complete the prompts that follow to finish your camera setup.
How do I connect my Vivint camera?
To get your Vivint outside security camera back online, try one or all of the following:
Restart your Vivint Smart Hub.
Unplug your camera for 30 seconds, then plug it back in.
Restart your router by unplugging it for 30 seconds, then plugging it back in.
Restart your computer modem.
How do I reset my Vivint outdoor camera?
To reset your Vivint outdoor home security camera, locate the power cord wired through your home and remove it from the outlet it's plugged into. Wait 30-45 seconds, then plug the camera back into the outlet to restore power.
Call 1-833-250-3814 or complete the form for a free quote.
Looks like there's an issue submitting your form.
Ensure your ad-blocker is disabled and submit again, or call us to complete your order!
Get Your Free Quote!
Get Your Free Quote!
Your quote is ready!
Call the number below to get details from a Vivint Smart Home security specialist.
1-833-250-3814
Looks like there's an issue submitting your form.
Ensure your ad-blocker is disabled and submit again, or call us to complete your order!