Simplify Your Routine with Wireless
Z-Wave Technology
By embracing home automation, you'll add minutes to your day
What is Z-Wave?
Z-wave is a wireless technology uniquely suited for home automation devices. Operating at a lower frequency (about 900 MHz) than Wi-Fi or Bluetooth (about 2.5 GHz), Z-wave frequencies are less likely to to be interrupted by other devices running at the same time, giving you smooth, continuous coverage and hands-free control over your home.
How Does Z-Wave Work with Vivint?
Z-wave functions by linking compatible devices via a centralized hub. The Vivint SkyControl™ panel acts as this Z-wave "mothership," connecting your Vivint-compatible Z-wave devices for unparalleled control over your household. Once your home automation devices are synced to SkyControl, you can tweak settings from anywhere via the Vivint Sky™ app.
Maximize Control with Smart Home Automation
Z-wave wireless technology gives you the best bet at a consistent climate in your home. Since Z-wave smart thermostats use a low wireless frequency, devices using Wi-Fi won't interfere. That means you'll experience less interruptions in service and more reliable comfort in your household.
Vivint Element Thermostat Not all smart thermostats are created equal. Unlike Nest Learning Thermostat and the EcoBee3, which use the same Wi-Fi signal as the majority of your other devices and can easily overwhelm slower connections, The Element Thermostat uses the efficient Z-Wave frequency, dedicated exclusively for use by home automation devices.
Vivint Z-Wave Security Devices

Keyless Doorlock
Always losing your keys? You won't have to rummage through coat pockets before an important meeting anymore with Vivint's Keyless Doorlock. A Z-wave-enabled device, the Keyless Doorlock can lock or unlock your door remotely and deter criminals from trying to pick the lock, increasing the security of your home.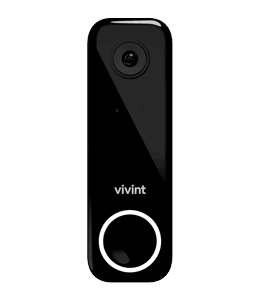 Doorbell Camera Pro
The Vivint Z-wave Doorbell Camera Pro acts as an extra pair of eyes on your front porch, allowing you to see—and even speak with—a visitor through your smartphone, even when you're miles away

Garage Door Controller
Your smartphone can double as a remote for your garage door no matter where you are. With a Z-wave garage door opener, you can let your neighbor in to use the car while you're on vacation, or close the door behind you when you leave for an afternoon jog.
Add Voice-Activated Lighting Control with Alexa
Want your lights turned off and doors locked before bed? Simply ask Alexa, and she'll get it taken care of. Amazon Echo's "Alexa" uses Wi-Fi to communicate with the Vivint SkyControl™ panel. SkyControl then converts the signal to Z-wave, allowing Alexa's voice-activated technology to control every Z-wave-enabled device in your Vivint Smart Home.
Smart Security Meets Seamless Home Automation with Z-Wave
Whether you want to double check that you shut the garage door after you're already 10 minutes away, or turn up the heat a few degrees while you're at work so it's toasty when the family gets home, Z-wave devices and technology give you the peace of mind of home security while offering the luxury of automation.
Secure and Automate Your Home with Z-Wave
Get a free quote today
Everyone has different needs and preferences. Simply fill out the form, and a smarthome specialist will give you a call to discuss pricing and the best Z-wave options for your household. Or call 1-833-792-2693today for a more instant connection.
Get Your Free Quote!
Get Your Free Quote!
Your quote is ready!
Call the number below to get details from a Vivint Smart Home security specialist.
1-833-792-2693
Looks like there's an issue submitting your form.
Ensure your ad-blocker is disabled and submit again, or call us to complete your order!