Consolidate Your Worries with the Vivint Carbon Monoxide Detector
You know having a carbon monoxide alarm is essential, but it's easy to put off or forget. No need to worry. Vivint takes care of everything from installation to low-battery reminders.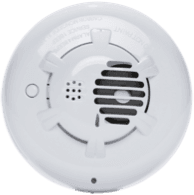 What Makes the Vivint Carbon Monoxide Alarm Different?
The Vivint carbon monoxide monitor has an electrochemical detector that's designed to identify elevated levels of carbon monoxide quicker than other detectors.
Your CO Detector Is Part of Something Bigger, and Smarter
Vivint carbon monoxide detectors work with the rest of your smart home. If your CO alarm is triggered, your system will automatically work to get you to safety and clear fumes out.
Unlocks Doors
Your doors will automatically unlock for an easy exit.
Turns Up Furnace Fan
The fan will start moving fumes out of your home.
Disarms Window Sensors
Open your windows to replace CO with fresh air.
54%
Fifty-four percent of unintentional, non-fire related carbon monoxide poisoning deaths from 1999 to 2012 happened inside a home.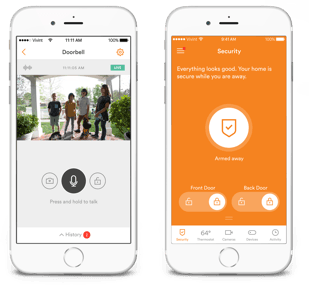 How the Vivint Smart Home
®

App Makes Security Easier

Helpful alerts.

Your Smart Hub™ will ping your app if anything seems off—and you can instantly lock deadbolts or turn off lights as a result.

Remote surveillance.

If you have Vivint security cameras, you can view live footage or clips remotely thanks to Vivint Playback™.

Everything in one place.

All Vivint products sync to your Smart Hub™—which syncs to your app for thorough, effortless mobile control.

Good-looking and easy to use.

iOS users rate the app 4.6 of 5 stars on average in the App Store.

Learn More about the App
Precise, Professional Installation by Vivint Smart Home Pros™
Vivint is committed to giving you quality service at every step, including installation. That's why Vivint carefully vets and trains every installation tech it hires, and never outsources the job to third-party dealers. Feel more comfortable and confident on installation day knowing that your Vivint Smart Home Pro™ will get the job done right.
Product Specs

Color

bg-white

Size

5.6"h x 2.4"d

Frequency

345 MHz

Siren Level

85 dB

Battery

3 AAA batteries

Battery Life

5 years

Product Protection Plan

Free replacement for defective hardware if subscribing to a Vivint service plan. (May require a separate site visit fee.) For product defects only. Does not include product failure due to abuse, normal wear and tear, acts of God, etc. as determined by a Smart Home Pro.
Frequently Asked Questions
What do you do if your carbon monoxide detector goes off?
The most important thing to do is to get your family members (including the furry ones) out of the house if your carbon monoxide monitor triggers an alarm. Vivint will contact your local emergency services for you.
Why is my carbon monoxide detector beeping?
You'll be notified via your control panel when it's time to change the batteries in your Vivint carbon monoxide detector. That means you won't get awakened in the middle of the night. The CO detector will only start beeping once the battery is nearly dead.
You will also hear beeping every 45 seconds when it's time to get a carbon monoxide detector replacement.
Where should a carbon monoxide detector be placed?
You should place CO detectors on every level of your home. Be sure to install them close enough to sleeping areas that the alarm will be loud enough to wake you up. It's a smart idea to place a carbon monoxide detector alarm 5-20 feet from potential sources of CO leaks such as water heaters or furnaces.
How do you know if you have a carbon monoxide leak?
It's virtually impossible to know if you have a carbon monoxide leak without a CO detector. That's because carbon monoxide is an odorless, tasteless, and invisible gas.
Symptoms of CO exposure include headache, nausea, fatigue, and dizziness. These flu-like symptoms are easy to confuse with other causes, another reason to be sure you have carbon monoxide detectors.
What can cause a carbon monoxide leak in a house?
Engines, water heaters, furnaces, fires, stoves, space heaters, generators, and more can cause the presence of carbon monoxide. The risk of carbon monoxide leaks increases in the winter as people tend to use more fuel-burning devices.
Call 1-833-802-0982 or complete the form for a free quote.
Looks like there's an issue submitting your form.
Ensure your ad-blocker is disabled and submit again, or call us to complete your order!
Get Your Free Quote!
Get Your Free Quote!
Your quote is ready!
Call the number below to get details from a Vivint Smart Home security specialist.
1-833-802-0982
Looks like there's an issue submitting your form.
Ensure your ad-blocker is disabled and submit again, or call us to complete your order!