Security Alarm Products for Property Protection
Assembling a burglar deterrent package? Start with these key elements. Remember that many Vivint Security products sync seamlessly with your Vivint control panel, broadcasting alarms and signaling both you and your Vivint Smart Home Pros™ to the possibility of danger.
Smart Video Surveillance
Outdoor and indoor video cameras automatically start recording if they detect motion, sending you an alert and the motion-activated clip.
Security Sensors
Security sensors for doors and windows let you know when an entrance to your home opens, while glass break sensors sound an alarm when glass shatters.
Smart Home App®
If you're away during a break-in, your burglar alarm's connection to the Vivint Smart Home® App will text you an alert so you can respond immediately.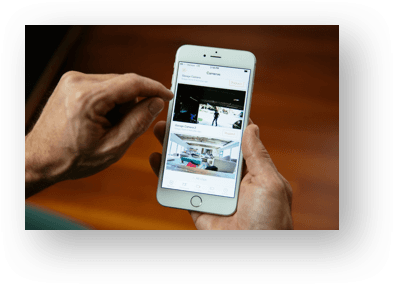 Customers' Favorite House Alarm Features
A Vivint burglar alarm system does even more than draw attention to intruders. It's also intuitive, wirelessly enabled, and easily customizable to every household's unique needs.
24/7 First-Party Monitoring and Support
Instead of outsourcing customer service and monitoring, Vivint professionals always have their eyes on your home. Your smart home control panel includes a two-way voice connection to your security team; with the swipe of a finger, you contact experts who can send immediate assistance.
Medical Alerts
If you live alone and experience a medical emergency or injury, you can't always get to the phone. Luckily, Vivint's medical panic alert pendant connects wirelessly to your smart home control panel. When Vivint professionals get a medical alert notification, they can send an emergency response team straight to your home.
100-Decibel Burglar Alarm
There's no chance of missing alerts from your home alarms: Vivint sensors and alarms reach up to 100 decibels, about the same as a construction drill. The sound notifies you to the problem, scares the burglar away, and might even let your neighbors know something's afoot if you're out of town.
Cellular Connection
No landline phone? No problem. Vivint systems use a cellular connection, not a wired landline connection, to loop you in with your 24/7 Vivint monitoring team.
Battery Power
Worried about burglars taking advantage of power outages? Vivint sensors rely on backup battery power. Even if your city's grid is down or some of your electric wires are cut, the power loss won't compromise your security—an attempted intrusion will still trigger the alarm.
Monthly Monitoring Packages for Your Vivint Smart Home
With Vivint, you choose the level of protection and automation you're happiest with. To get started, browse the plans below and then call 1-833-784-2154for a personalized quote on the Vivint smart products you've got your eye on.
Choose Your Own Payment Model with Vivint Flex Pay
Vivint started the Flex Pay model to make the smart home experience possible for families of all budgets and investing styles. Whether you want to go all-in on your Vivint equipment now or take the more manageable monthly track with financing, Flex Pay gives you that freedom*.
Call 1-833-784-2154for a customized Flex Pay quote on the products you want!
HOW FLEX PAY WORKS Purchase equipment NOW
No contract – OR –Pay monthly with financing on approved credit.*
Get Your Free Quote!
Get Your Free Quote!
Your quote is ready!
Call the number below to get details from a Vivint Smart Home security specialist.
1-833-784-2154
Looks like there's an issue submitting your form.
Ensure your ad-blocker is disabled and submit again, or call us to complete your order!