Sync Wireless Security Cameras to Sink Burglars
Wi-Fi security cameras bolster your whole smart home against strategic break-ins.
What Are Wireless Security Cameras?
Wireless can have a couple meanings: (1) completely cordless or (2) connectable to a Wi-Fi network rather than needing a hardwired internet connection.
When it comes to wireless home security cameras, the word "wireless" almost always means connectable to a Wi-Fi network. Cordless cameras aren't very common in 24/7 video surveillance because batteries can't supply heavy-duty electricity as easily as the grid can. More importantly, wireless home security camera systems secure your home without bulky, inflexible Ethernet wiring and offer easier home automation by syncing with other smart devices.
1%
of the default passwords on bluetooth and Wi-Fi devices have never been changed—and with just five of these defaults, a hacker could access approximately 1 in 10 IoT devices.
Source: Positive Technologies
How a Vivint Wireless Security Camera System Improves Your Smart Home
Easier Installation
Wireless home security cameras don't need Ethernet wiring all the way around the house to connect to the control panel. That means you can install indoor and outdoor wireless security cameras practically anywhere you want, and you can add cameras or move their positions without a complicated reinstallation.
Better Tamper Resistance
Any burglar attempting to disable your wireless camera system has to approach each camera one by one because there's no cuttable Ethernet cord physically connecting them. And because of Vivint cameras' wide-angle lenses and motion sensors, any tamperer is likely to be scared off before reaching the other cameras.
Cleaner Look
The power cords on Vivint wireless cameras are a near non-issue—the Doorbell Camera cord hides in your wall; the Ping™ indoor camera cord looks like the cord of any table lamp; and the outdoor wireless security camera cord runs neatly out of reach thanks to Vivint Smart Home Pro™ installers.
Smarter Security
By connecting to the Vivint Smart Hub™, your wireless security cameras act in tandem with other devices during a crisis. For example, if a motion sensor trips the alarm in your Vivint smart home, all wireless surveillance cameras start recording immediately. And with HD resolution and infrared night vision on all cameras, you'll get valuable footage whatever time it is.
Greater Savings
Using a wireless security camera system brings down installation costs because the cameras don't need as much wiring or labor to install. Also, Vivint wireless cameras can back up all your footage on the 1TB Smart Drive™ at a fraction of the price you'd pay for third-party cloud services.
More Control
The Vivint Smart Home® App lets you monitor your wireless security camera feeds when you're away, and it notifies you of unusual activity. Plus, since Vivint wireless cameras connect to your whole smart home, you can respond to suspicious movement by turning lights on or off, locking doors, or calling the police—if Vivint hasn't already.
Create a Surveillance System with Vivint Cameras
The same Vivint cameras that connect you to your babies or takeout delivery driver also run serious video surveillance.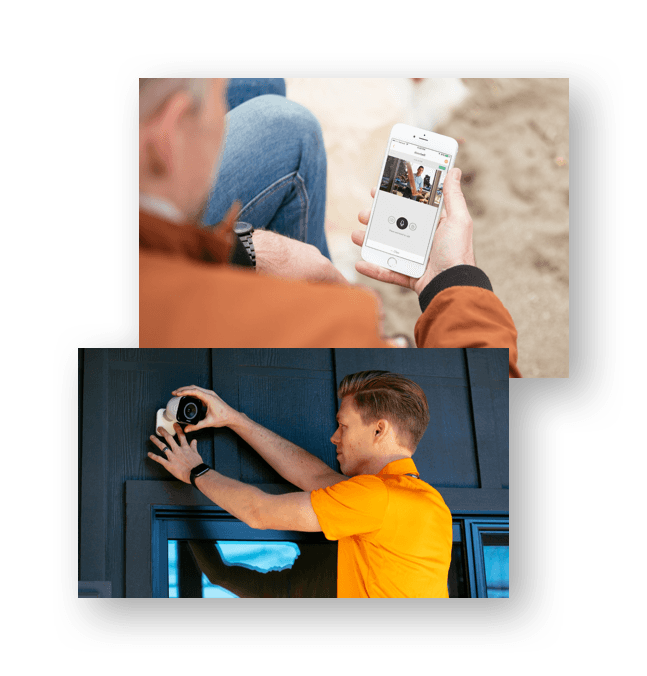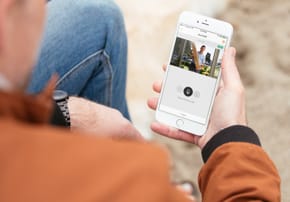 Why Vivint Is the Smartest Choice in Home Security
Fits security products naturally into your growing smart home.
Consolidates smart home control and makes it mobile.
Responds to emergencies in record time while you catch your breath.
Offers cutting-edge products, especially HD wireless security cameras.
Gives you the freedom to invest on your timeline.
Provides exceptional service from installation to monitoring to customer care.
View Vivint Packages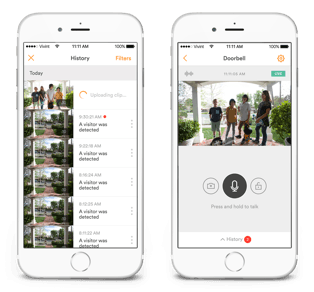 How the Vivint Smart Home® App Works with Your Wireless Camera System
Timely alerts
Your Vivint Smart Hub™ will ping your Vivint Smart Home App if your Wi-Fi home security cameras detect suspicious activity—and you can instantly lock deadbolts or turn off lights as a result.
Remote surveillance
With Vivint wireless security cameras, you can view live footage or clips remotely thanks to Vivint Playback™.
Everything in one place
All Vivint products sync to your Vivint Smart Hub™—which syncs to your Vivint Smart Home App for thorough, effortless mobile control.
Good-looking and easy to use
iOS users rate the app 4.6 of 5 stars on average.
Frequently Asked Questions
Do you have to have Wi-Fi for wireless security cameras?
You need Wi-Fi if you want your wireless security cameras to communicate with your Vivint Smart Hub™, coordinate with other smart security devices in your system, and be accessible from your smartphone.
Without internet-connected wired or wireless security cameras, no security system is well suited to protect your home. You can post a cordless camera anywhere you want, but to see the footage, you'll have to save it to an SD card, manually remove the card from the camera, and watch the footage later, which means you can't respond in the moment if your camera spots a burglar—and neither can the police.
Do you need a DVR for Wi-Fi security cameras?
You don't absolutely need DVR for wireless video cameras if you're okay with capturing only motion-activated footage. However, a full DVR system can capture footage 24/7 so you have the moments before and after motion-activated footage—getting the full picture.
With Vivint, a DVR technology called Vivint Playback™ is built right into each camera. Playback™ creates Smart Clips™ of 20 or 30 seconds that capture a motion-activated incident in its entirety and flag it on the timeline for easier searching. You can also review your 24/7 footage for 30 days from the Vivint Smart Home® App.
What does HDD mean on security cameras?
HDD stands for hard disk drive, and in the context of wireless home security cameras, it means the camera stores footage locally, on an external drive, instead of in the cloud or on a micro SD card.
Vivint wireless cameras autosave their footage to an external HDD called the Vivint Smart Drive™, a highly cost-effective storage solution that autosaves 30 days of video footage from up to 4 connected wireless cameras. Because the Smart Drive™ syncs to your whole Vivint smart home, you can review available footage from the Vivint Smart Home® App anytime, instead of having to view it on your home computer.
Are Wi-Fi security cameras safe?
All wireless technology comes with the risk of being hacked, but there are simple ways to mitigate that risk. Since Vivint wireless cameras are connected over your home Wi-Fi network, you actually have quite a bit of control over how safe your devices are.
Change the default address and password that came with your Wi-Fi router, and do the same for any smart security device that requires one
Change passwords and codes regularly
Choose an encrypted network configuration so that only authorized devices can "read" the information being sent back and forth on your network
Install firmware and software updates every time they're available (sometimes you can opt for auto-updates)
Consider upgrading to a newer model with fewer vulnerabilities if you have a really old router
Also, know that many home security hackers are likely to use an actual physical device called an SDR (software-defined radio) to try and jam your wireless signal and disable your security system. But they have to be right outside your home, if not within your home, to even attempt this, so looking out for home security hackers is a lot like looking out for physical burglars—just take normal home security precautions and keep an eye out for anyone who may be casing your home.
How do wireless security cameras work?
Like all Wi-Fi devices, wireless security cameras use built-in radio transmitters to send data over the airwaves at a specific frequency. Since that frequency is the same for all Wi-Fi networks in the world, it's important to set up a secure, encrypted home Wi-Fi network. When your network is private and password-protected, only the devices you choose can interpret the data going back and forth on your connection.
Call 1-833-250-3813 or complete the form for a free quote.
Looks like there's an issue submitting your form.
Ensure your ad-blocker is disabled and submit again, or call us to complete your order!
Get Your Free Quote!
Get Your Free Quote!
Your quote is ready!
Call the number below to get details from a Vivint Smart Home security specialist.
1-833-250-3813
Looks like there's an issue submitting your form.
Ensure your ad-blocker is disabled and submit again, or call us to complete your order!