Vivint Smart Home Security in Las Vegas
Help Keep Your Family Safe with Vivint Security
No matter where you live in Vegas—anywhere from Summerlin to Henderson—you'll be covered with Vivint Las Vegas' wide range of available home security equipment and home automation features.
When you consider that 19,260 property crimes occurred in Las Vegas in 2015 according to the FBI, it's easy to see that protecting your home with a security system is an excellent bet in helping maintain the safety of your household.
Curious about the most popular Vivint home security product among Las Vegas locals? Door/window sensors are a favorite, thanks in part to their ability to trigger alarms or alert you if you've mistakenly left open a door or window. Other security features, like carbon monoxide and smoke detectors, serve to alert you early to potential hazards. Plus, every Vivint home security system brings you 24/7 monitoring by trained Vivint professionals. Call now at 1-855-577-0636 to get Vivint.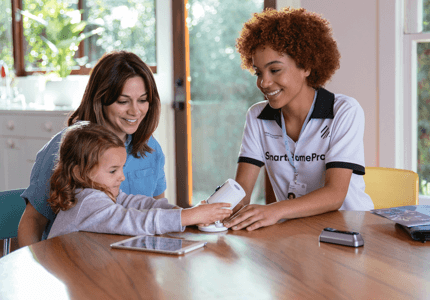 19,260
property crimes occurred in Las Vegas in 2015, according to the FBI
What Does a Typical Vivint System Include in Las Vegas?
You'll have plenty of Vivint security equipment to choose from when you live in Las Vegas, NV. A few customer favorites include the ping camera, outdoor camera, Vivint smart sensor, and the Element Thermostat™.
Home security features like these combined with user-friendly home automation features like Vivint Sky™ mean your home will be both secure and streamlined. Plus, Vivint makes it easy to start using your security system right away—no matter your budget. In fact, you can get a complete smart home system for under $2 a day from the #1 smart home services provider in the U.S.
For pricing options that fit almost any budget, there's Vivint Flex Pay. Flex Pay lets you pay for your equipment up front without a contract or pay it off over 42 or 60 months for 0% APR. Visit our Flex Pay Pricing Tool to build a security system from scratch and discover your personalized Vivint cost.
24/7 Monitoring by trained Vivint security agents
Indoor/outdoor security cameras and live video clips
Sky Technology for customizable security
Remote Access with Vivint Sky™ App
Be Ahead of the Joneses with Home Automation in Las Vegas
It's not about just keeping up anymore. With Vivint's wide variety of intuitive home automation equipment, advanced security technology, and sleek designs, your dream home is at your fingertips. Vivint smart home automation features will help you run your household like clockwork.
SkyControl technology is designed to record your daily habits and adapt to your routine, giving you a truly personalized smart home experience. Do you typically turn up your thermostat in the morning or turn off your nightstand lamp at 10 pm? Vivint Sky takes notice and adjusts. And after you've spent a long day on the golf green or a night out on the Strip, it can be a true comfort to return to a home that is automated precisely to your tastes.
Some of Vivint's Home Automation Features:
SkyControl Panel: Acts as a centralized hub, connecting to all your smart home devices
Vivint Sky™ App: Manage your home automation features remotely on your mobile device
Doorbell Camera: Add a camera and 2-way voice to your doorbell, so you can see and speak with anyone on your porch
Nest Thermostat: Nest learns your daily routines and automates your schedule
Fully integrate home automation equipment: Nest Thermostat, Element Thermostat, Amazon® Echo, Doorbell Camera, Automated Door Lock, and more.
Get a Free Estimate for your Las Vegas Home Today
For a personalized quote, enter your details in the form. A Vivint expert will give you a call to help you navigate costs, discover available limited-time offers, and take advantage of the most up-to-date Vivint specials. Or call now at 1-855-577-0636.
The "Smartest" Cities in the Las Vegas Metro Area
The Las Vegas metropolitan area is usually known as a place of excess: bright lights, luxurious fountains, and street congestion. But if you peel back the glossy veneer, you'll find lots of green (and no, we're not referring to the money you lost gambling). Cities within the metro area share a commitment to environmentalism and digital connectivity. Read on to see which cities opted out of the typical red or black and put their chips on green.
Our Rubric: How to Make a City Smart
When crunching the stats to find the smartest cities in the Vegas metro area, we focused on the following categories:
Connectivity - The more widely available internet access is for a given city, the higher the Connectivity score. Additional points were awarded for residents' access to computing devices such as computers, tablets, and smartphones.
Public Transportation - Breadth and access of city-wide public transportation are key to the success of a modern, smart city. The more available public transportation, the less pollution workers burn on their commute.
Green Infrastructure - The more a city offers alternative energy sources, the higher its Green Infrastructure score. Green Infrastructure includes access to alternative fuel for vehicles and solar panel installations.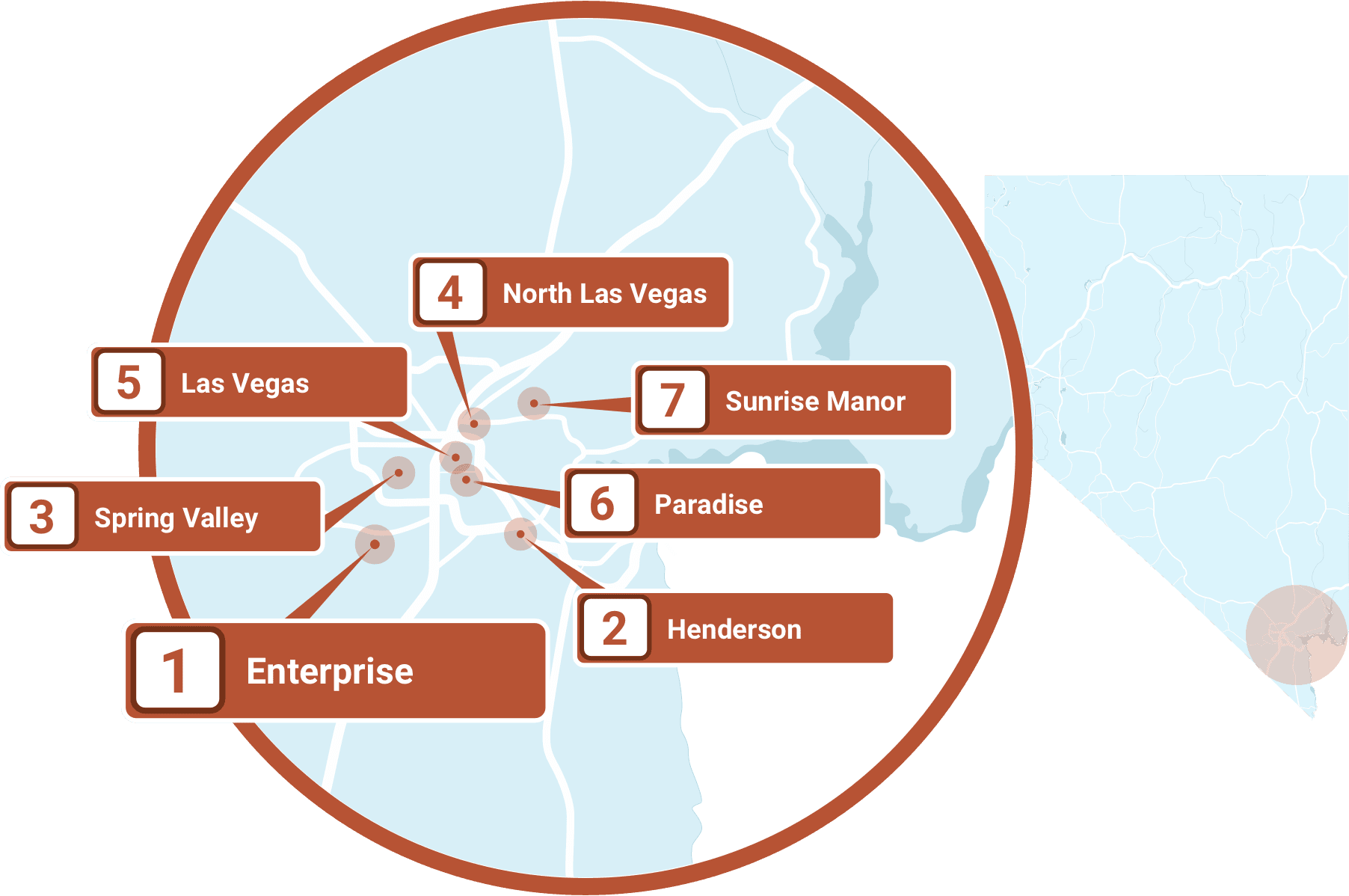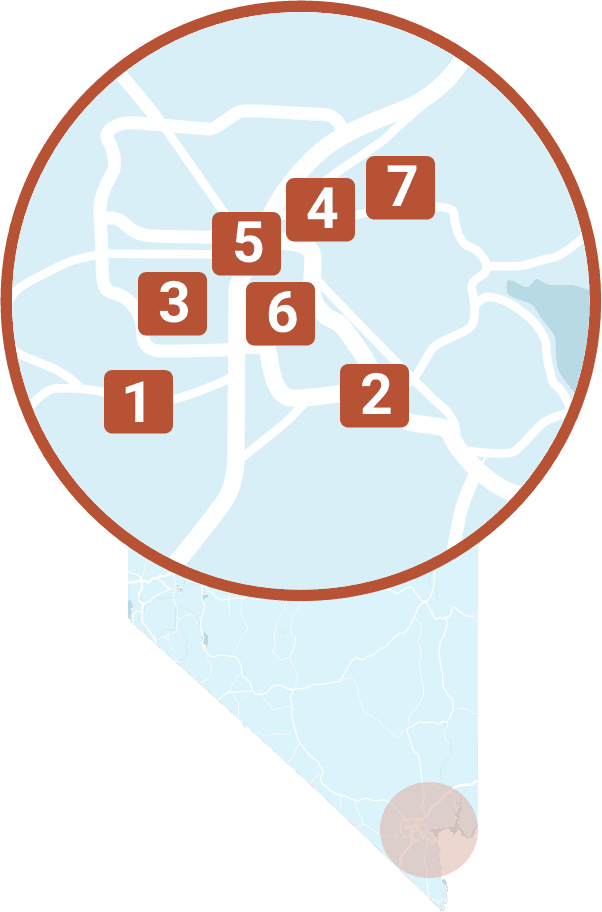 Top of the Class: The Metro Area's Seven Smartest Cities
Using the classifications above, we did the math to report which cities in the Vegas metro area are the smartest. Here's who did their homework, from good to great:
Not quite a city, not quite a town, Sunrise Manor just makes our list. Despite its low overall score, 4.8% of residents use public transportation to get to work, more than almost any other area on our list.
Connectivity #7
Public Transportation #3
Green Infrastructure #6
As it contains most of the Strip, Paradise is the place that comes to mind when tourists think Vegas. While its Connectivity hurts its overall ranking, Paradise has the highest number of electric vehicle charging stations per 100,000 residents at 29.31.
Connectivity #6
Public Transportation #2
Green Infrastructure #1
The most populated city in Nevada, Las Vegas proper earns the right to call itself "The Entertainment Capital of the World." Less known is the town's commitment to green logistics: Las Vegas City ranks #1 on our list for Transportation.
Connectivity #5
Public Transportation #1
Green Infrastructure #5
Home to the Nellis Air Force Base, North Las Vegas City is high on our list for its superior connectivity. 94.81% of residents in North Las Vegas City are flying high with more than one computing device at home.
Connectivity #4
Public Transportation #5
Green Infrastructure #7
For some of the best bubble tea in Nevada, residents flock to Spring Valley and its extensive Chinatown neighborhood. As 5% of Spring Valley residents take public transportation to work, the area is as green as its matcha.
Connectivity #3
Public Transportation #7
Green Infrastructure #4
With 69 city parks, 29 elementary schools, and a handful of golf courses, Henderson City earns its slogan "A Place to Call Home." The city has 3,500 solar installations and counting—residents are clearly committed to keeping their homes clean and green.
Connectivity #2
Public Transportation #4
Green Infrastructure #2
Refreshingly suburban, Enterprise is close enough to Paradise and Las Vegas City to be a part of the cultural conversation. Enterprise tops our list with an impressive Connectivity score: 94.48% of residents have an internet subscription.
Connectivity #1
Public Transportation #6
Green Infrastructure #3
Methodology
Data was gathered from data.census.gov (Table S28011 and Table S08012), as well as the Regional Transportation Commission of Southern Nevada, the Regional Transportation Commission, Google Project Sunroof, and Alternative Fuels Data Center.
After choosing seven cities in the Las Vegas area, we analyzed six different data points:
Connectivity

Number of people with more than one computing device
Amount of people with an internet subscription

Public Transportation

Percentage of people that take public transportation to work
Availability of public transportation

Green Infrastructure

Number of electric charging stations per 100,000 residents
Number of solar installations per 100,000 residents
The data was originally gathered in March of 2020.
1Provided information per household in regards to amount of computing device and amount of people who had internet subscriptions
2Provided information on those who use public transportation to get to work
Get Your Free Quote!
Get Your Free Quote!
Your quote is ready!
Call the number below to get details from a Vivint Smart Home security specialist.
1-855-577-0636
Looks like there's an issue submitting your form.
Ensure your ad-blocker is disabled and submit again, or call us to complete your order!