Motion-Activated Security Cameras from Vivint
All three Vivint motion detector cameras use infrared sensors to spot movement and alert you immediately.

4 years
That's how long an El Paso sports complex went without a single vandalism incident—after fed-up staff installed a motion sensor security camera at the concession stand.
Source: NRPA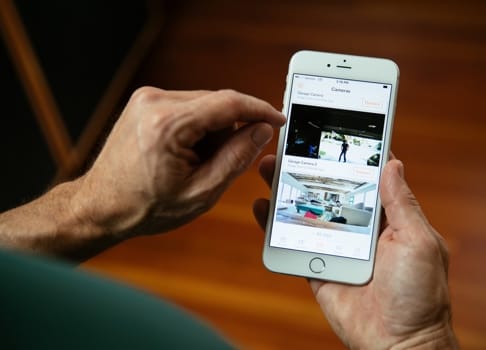 Motion-Activated Security Camera Events Stand Out with Vivint Playback™
Built into every Vivint camera, Vivint Playback is a software that makes it easier to save, review, and share your motion sensor security camera footage—whether it's for sentimental or security reasons.
Flags movement and autosaves as Smart Clips™ for 45 days, so you have time to review
Autosaves ALL camera footage for 30 days on Vivint Smart Drive™, a physical storage device less likely to be hacked
Shows entire Playback timeline on the Vivint Smart Home© App, with Smart Clips™ motion event markers for easier search
Creates downloadable clips of 30, 60, or 90 seconds to easily share with family or police
Supports up to four motion detecting video cameras
Learn More about Vivint Playback™
What's the Field of Vision for Vivint Motion Detector Cameras?
All three Vivint cameras have wide-angle lenses that slim down the invisible spaces where intruders may try to hide. Combine these wide fields of vision with built-in motion sensing technology, and even the most conniving burglars would likely be noticed and filmed before they could attempt to disable your camera.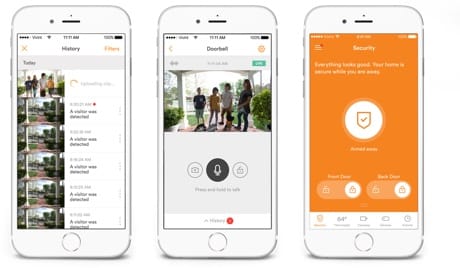 Control All Motion Detector Camera Features from Your Phone or Tablet
Vivint Playback™ video technology notifies your Vivint security system to save Smart Clips™ and back up 30 days of continuous footage on the Smart Drive™.
But the Vivint Smart Home© App brings all these features together into the palm of your hand. With mobile, anytime access to your entire Playback timeline, Smart Clips, and live video feed—plus the live alerts when motion is detected—the Vivint Smart Home© App gives you both instant control over all your motion sensor video cameras and the tools to respond rapidly.
Learn More about the App
Motion Detection Cameras Connect and Protect
See—and sometimes talk to—the people moving in and around your house with Vivint's motion detecting security cameras.
Call 1-833-251-9955or complete the form for a free quote.
Looks like there's an issue submitting your form.
Ensure your ad-blocker is disabled and submit again, or call us to complete your order!
Get Your Free Quote!
Get Your Free Quote!
Your quote is ready!
Call the number below to get details from a Vivint Smart Home security specialist.
1-833-251-9955
Looks like there's an issue submitting your form.
Ensure your ad-blocker is disabled and submit again, or call us to complete your order!