Products for Your Home Surveillance System
Add a crucial layer of security to your home with window and door sensors and remote-access security cameras. With smart home automation products, staying attuned to your home is easier than ever—each product syncs with the Vivint Smart Home® App, which gives you a simple way to check your property from your phone, laptop, or tablet.
Video Security
Remote surveillance cameras can go anywhere in your home—indoors or out—so you can keep an eye out while you're out.
Security Sensors
Stall burglars who enter through doors or windows with Vivint sensors that notify you when an entrance to your home opens.
Vivint Smart Home® App
Your Vivint Smart Home® App connects you to your remote-viewing security cameras from any internet-enabled device.
Over 1%
Over 67% of all burglaries in the US are residential burglaries.
Source: FBI Uniform Crime Reporting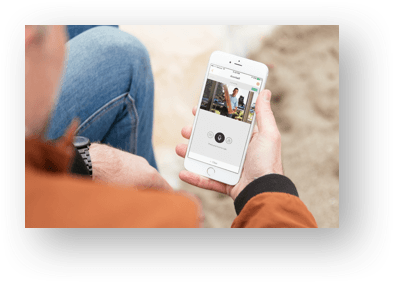 More Remote Video Surveillance Features
Remote-viewing security cameras are only one piece of the perfect remote surveillance package. Most monitoring packages come with these additional perks:
Top-of-the-Line Products
From HD outdoor cameras to glass break sensors that pick up on the exact frequency of shattering glass, Vivint products are largely designed in-house and held to Vivint's own high manufacturing standards. Vivint experts also install your home surveillance cameras so they're angled in the best direction.
First-Party Professional Monitoring
Where other security companies defer their monitoring to an outside group, Vivint takes care of monitoring in-house—using your control panel in an emergency gets you a professional who knows exactly how to help. Plus, since your home surveillance systems are monitored by Vivint, if a professional notices an issue, they'll notify you and the correct emergency response team immediately.
Smart Home App Monitoring
Want to know if your home's okay if you're on vacation halfway around the world—or even a block away at the office? The Vivint Smart Home® App lets you see and control each remote-access security camera on your property.
Video Playback DVR
The Vivint Playback™ DVR lets you set four of your remote security cameras to record continuously. Save up to a full month of footage and easily search for events that are bookmarked automatically by motion triggering the cameras' sensors.
Two-Way Voice Communication
Vivint doorbell and indoor cameras sync with your app to offer easy two-way voice communication. Chat with the kids or communicate with whoever's at the door in real time even when you're not at home.
Monthly Monitoring Packages for Your Vivint Smart Home
With Vivint, you choose the level of protection and automation you're happiest with. To get started, browse the plans below and then call 1-844-576-0289 for a personalized quote on the Vivint smart products you've got your eye on.
Choose Your Own Payment Model with Vivint Flex Pay
Vivint started the Flex Pay model to make the smart home experience possible for families of all budgets and investing styles. Whether you want to go all-in on your Vivint equipment now or take the more manageable monthly track with financing, Flex Pay gives you that freedom.
Call 1-844-576-0289for a customized Flex Pay quote on the products you want!
HOW FLEX PAY WORKS Purchase equipment NOW
No contract – OR – Qualified customers can finance equipment at 0% APR for up to 60 months
Check On the House Anytime with Your Smartphone
The mobile Vivint Smart Home® App lets you control locks, lights, garage doors, and thermostats from far away.
Call 1-844-576-0289or complete the form for a free quote.
Looks like there's an issue submitting your form.
Ensure your ad-blocker is disabled and submit again, or call us to complete your order!
Get Your Free Quote!
Get Your Free Quote!
Your quote is ready!
Call the number below to get details from a Vivint Smart Home security specialist.
1-844-576-0289
Looks like there's an issue submitting your form.
Ensure your ad-blocker is disabled and submit again, or call us to complete your order!