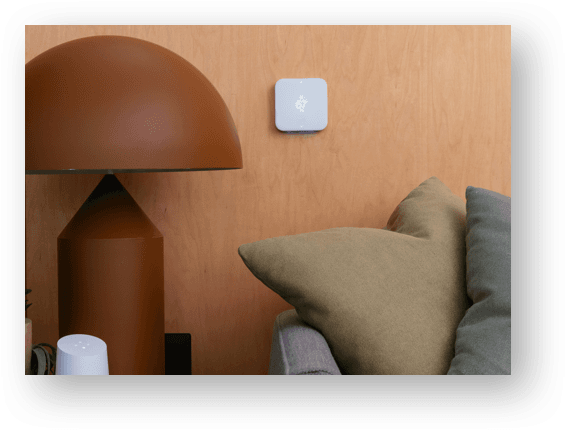 Smart Thermostats Create Comfort and Save Energy
Vivint Element™ Thermostat brings comfortable temperatures to your smart home—and saves on energy bills—with far fewer trips to the thermostat.
Rather than being a Wi-Fi smart thermostat, Element runs on Z-Wave frequencies, leaving your security cameras and other Wi-Fi devices running more efficiently while still wirelessly connecting to your system through the Smart Hub™.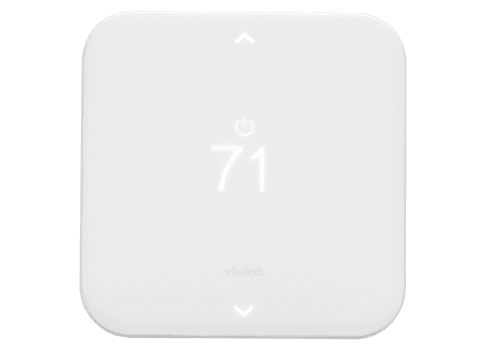 The Vivint Thermostat Steps Up Smart Thermostat Design
Programmable thermostats have been around a long time, but smart thermostats track the temperatures you like and program themselves after just a few days. Vivint Element™ Thermostat takes the digital smart thermostat concept even further.
By syncing with additional smart sensors and monitoring local weather patterns, Vivint Element creates and maintains your ideal in-home climate with more precision and flexibility.
1%
of US homes with a manually programmable thermostat never get around to programming it.
Vivint Element™ Thermostat Features
Mobile Alerts
Element controls itself—and keeps itself accountable by sending alerts every time it auto-adjusts, so you know why the temperature is changing. When needed, you can also make manual changes on Element itself, your mobile device, or the Smart Hub™.
Humidity Sensors
Element monitors moisture, not just temperature, so you can control the humidity in your house better. Plus, when hardwired to your HVAC and synced to your smart home, Element can shut down your HVAC during a fire to prevent flames from spreading rapidly through the vents.
Minimalist Design
Element has a sleek, barely there touch display, which lights up either on approach or with the touch of a button. Element also glows orange or blue to indicate warming or cooling, and its rectangular shape matches the shape of most old thermostats, so you don't have to match paint.
Precise, Professional Installation of Your Smart Home Thermostat
Vivint is committed to giving you quality service at every step, including installation. That's why Vivint carefully vets and trains every installation tech it hires, and never outsources the job to third-party dealers.
Feel more comfortable and confident on installation day knowing that your Vivint Smart Home Pro™ can handle tasks as simple as installing your Vivint thermostat batteries or as complicated as wiring your intelligent thermostat to your HVAC for more complete home automation.
Professional Installation,

$0 Activation
Vivint Thermostat Specifications

Color

bg-white

Size

115mm H x 115mm W x 24mm D

Weight

10.1 oz

Battery

Battery powered (4 AA) or 24VAC wired power from HVAC system

Screen

On-screen control

Sensors

Temperature, humidity, proximity, ambient light

Compatibility

Works with common heating and cooling systems, including conventional forced air, radiant, and heat pump. Up to 3 stages of heating. Up to 2 stages of cooling. Supports a wide range of fuels including natural gas, propane, electric, fuel oil, and geothermal. Built-in fan timer.

Connectivity

Z-Wave

Warranty

Limited warranty
Create a Smart Home System with Related Vivint Products
Frequently Asked Questions
How do I calibrate my Vivint Element™ Thermostat?
While Element detects temperatures to within one-tenth of a degree Fahrenheit, the displayed temperature is always rounded to the nearest full degree (or half-degree Celsius). If you want to change Element's point of reference by a degree or two, follow these steps:
Find the side button and hold it for 3–4 seconds until you see Settings.
Use the up and down arrows to navigate to Installer, then press the side button to select it.
Use the up and down arrows to navigate to Calibrate, then press the side button to select it.
Use the up and down arrows to select the temperature that seems to best match the temperature of the room.
Hold the side button down for 2 seconds to return to the default thermostat view.
How do I change my Vivint thermostat batteries?
To get your Vivint thermostat back online, try one or all of the following:
Carefully pull the body of the thermostat toward you so it lifts from the magnetic mounting plate.
Remove the old batteries and place 4 new AA batteries into the proper slots.
Place the thermostat back onto the magnetic mounting plate.
How do I change my Vivint thermostat?
If you have the Vivint CT100 Smart Thermostat and you'd like to upgrade to Element, call 1-833-821-1425for help from an agent.
What thermostats work with Vivint?
The Element and CT100 smart thermostats are compatible with your Vivint smart home.
The Nest thermostat is also compatible with the Vivint smart home, so if you already have one, you don't need to buy a new automated thermostat to integrate temperature control into your Vivint smart home system.
Call 1-833-821-1425 or complete the form for a free quote.
Looks like there's an issue submitting your form.
Ensure your ad-blocker is disabled and submit again, or call us to complete your order!
Get Your Free Quote!
Get Your Free Quote!
Your quote is ready!
Call the number below to get details from a Vivint Smart Home security specialist.
1-833-821-1425
Looks like there's an issue submitting your form.
Ensure your ad-blocker is disabled and submit again, or call us to complete your order!