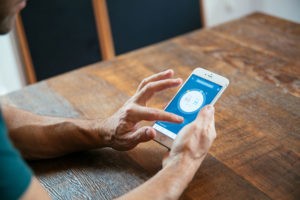 Amazon Makes Controlling Your Vivint Smart Home Products Even Easier
The Amazon Echo smart home speaker was introduced in 2014, and people quickly learned to love the convenience of asking Amazon's virtual assistant, Alexa, for assistance. Since then, Amazon has launched six additional models of the Echo, all of them compatible with Vivint systems. Alexa and Vivint's integration allows you to control your smart home hands-free with simple, voice-activated Alexa commands.
With the recent launch of the Amazon Echo Show, a touchscreen device with built-in Alexa, managing your Vivint Smart Home and monitoring your video surveillance cameras just became easier. This video version of the Echo allows you to see who's at the front door or peek in on the baby while you're streaming music from your favorite Amazon music station.
Review the list below to get the most from your Vivint Smart Home using your Amazon Alexa.
Locks
Locking your doors by voice command while you're lying in bed is one of the many conveniences of using Alexa with Vivint. Smart locks connect wirelessly with your Vivint touchscreen panel, allowing you to control your locks from anywhere or receive notifications when someone enters your home. You can use a few different commands you with your locks and your smart home system:
Alexa, is my front door locked?

Alexa, lock my back door.

Alexa, are my doors locked?
Lighting
From having lights turn on when you enter the house to turning off all the lights with one command, voice control makes lighting your home convenient. Vivint and Alexa work directly with Phillips Hue, a wireless lighting system that allows you to light entire rooms or floors and create the ambiance you want in your home.
Once you have the system installed, you can try the following commands:
Alexa, turn on living room lamp.

Alexa, set bedroom to 20%.

Alexa, turn off kitchen lights.

Alexa, dim entry lamp.

Alexa, brighten my bedroom.

Alexa, is my kitchen light on?
Thermostats
Smart thermostats offer you more control over your home's temperature, which keeps you comfortable and saves you money on your energy bill. The Nest Learning Thermostat enhances that control and savings by learning your preferred temperature and building a program around your schedule. This smart technology can save you, on average, 10–12% on your heating bills and 15% on your cooling costs.
Try some of these Vivint Alexa commands for your smart thermostat:
Alexa, set the basement to 70 degrees.

Alexa, turn the AC up two degrees

Alexa, increase bedroom temperature.

Alexa, turn up the heat.

Alexa, I'm cold.

Alexa, what's the temperature?
Video Cameras
Front porch cameras make it convenient to see who knocks at your door. Vivint's doorbell camera seamlessly blends its camera into the doorbell design. You can rest easy knowing the camera has a 180-degree lens and infrared night vision to record everything on your doorstep any time, day or night.
Pair the doorbell camera with indoor Ping cameras, and you've got the inside and outside of your home covered. Both camera types allow for two-way talk, making it convenient to talk to anyone inside or outside the house, even when you're on the go. You can make the following requests with your paired system:
Alexa, show my outdoor camera.

Alexa, show the baby's room.

Alexa, show my doorbell camera.
Security System
Whether you need equipment to monitor your house or access to a personal monitoring device, your Vivint system is covered 24/7 to help keep your home safe. With door and window sensors, motion detectors, smoke detectors, and flood and freeze sensors, your system will alert you to any issues. You can even secure your property with these Alexa commands:
Alexa, arm my security system "stay."

Alexa, arm my home "away."

Alexa, what's the state of my security system?
Smart Assistant Home
Program your Alexa home automation to perform multiple tasks at once. Rather than rushing from room to room to ensure the lights are off or doors are locked as you leave, or entering a dark home late at night, simply give Alexa one command. She'll perform multiple actions at once, shutting your home down when you depart or creating a welcoming environment when you return. Just use any of the following phrases:
Alexa, I'm home.

Alexa, I'm leaving.

Alexa, I'm going to sleep.
Connecting Your Alexa App to Vivint Smart Home
To connect your Amazon Echo to your Vivint Smart Home, follow these steps:
Set up your Echo device with your Alexa app before you connect to Vivint Smart Home.

Open the menu and tap

Skills

.

Find the Vivint Smart Home skill. There are two skills listed, and it's recommended you enable both if you have lights and thermostats connected to your system.

Enter your Vivint username and password, and sign in to link the accounts.

Say, "Alexa, discover my devices" to link your home to your Amazon Echo.
Amazon's Alexa has new skills added every day. Her ability to play songs and tell jokes on command won over people when she first hit the market. But now, along with the help of Vivint integration, she's providing services that benefit your security and home. Contact a Vivint Smart Home authorized retailer to secure your home today.
Related Pages: