Jump to:
Americans can't get enough of crime shows. Last year, crime dramas made up about one-fifth of all scripted shows on network television. And as of the publication of this article, about one-third of Netflix original docuseries in their first run are true crime stories.
Plenty of theories get around about why Americans gravitate to crime TV shows, but the team at Smart Home Solutions had a different question: how does crime TV influence the viewer's behavior? 
Read on for a glance at the most popular Netflix crime shows nationwide—and some insights into how crime TV fans react to a bump in the night.
Most Googled Netflix Crime Shows by State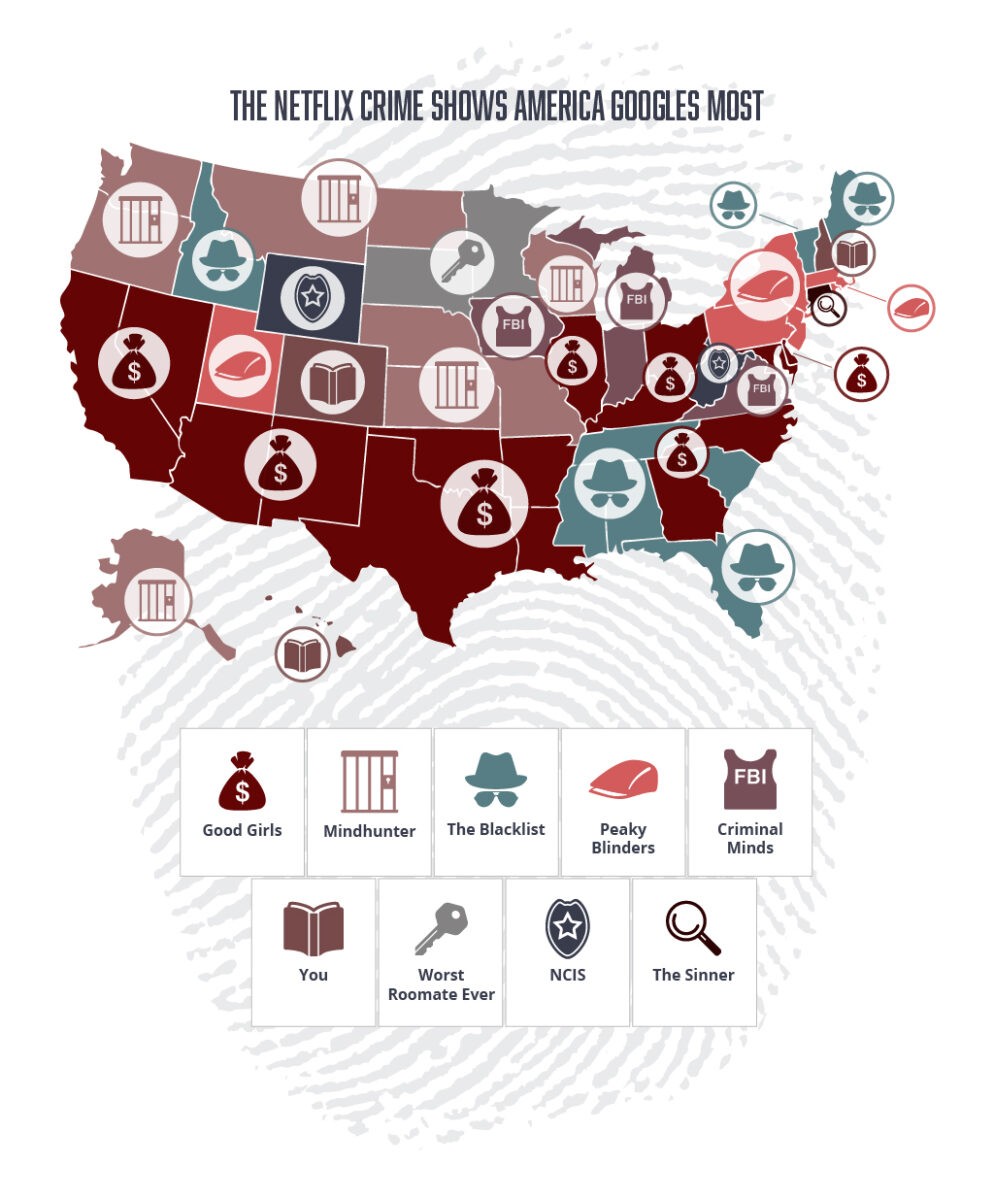 Interesting Findings
Comedy-drama

Good Girls

appears to be among the most popular crime shows on Netflix, with 15 states googling it most. 

Unfortunately for

Good Girls

fans, the series will not be renewed for a fifth season on the platform. 

As the most searched show in 9 states, psychological crime thriller

Mindhunter

is the second most googled series overall. 

Based on the 1995 true-crime book of the same name, the series has the second highest IMDb score on our list at 8.6/10.

Mindhunter

has been nominated for 36 awards and won 5, including the Online Film & Television Association Award. 

The Blacklist

is the third most popular Netflix crime show across the country, with 8 states searching for it most. 

The show has won both the ASCAP Film and Television Music and Primetime Emmy Awards. 

Good news for fans of the series,

The Blacklist was renewed for a tenth season in February. 

British crime drama

Peaky Blinders

is the fourth most popular series nationwide, with six states searching for it most following the release of the show's sixth season last month. 

The series has the highest IMDb score on our list at 8.8/10 and has won over 20 awards, including the UK TV Choice Award and the BAFTA TV Award.

Despite winning 23 awards, and being crowned the most streamed TV series in the U.S. last year,

Criminal Minds

was searched most in just 4 states, including Virginia, the state where the series takes place.
How a
Good Crime Show on Netflix
Influences Your Behavior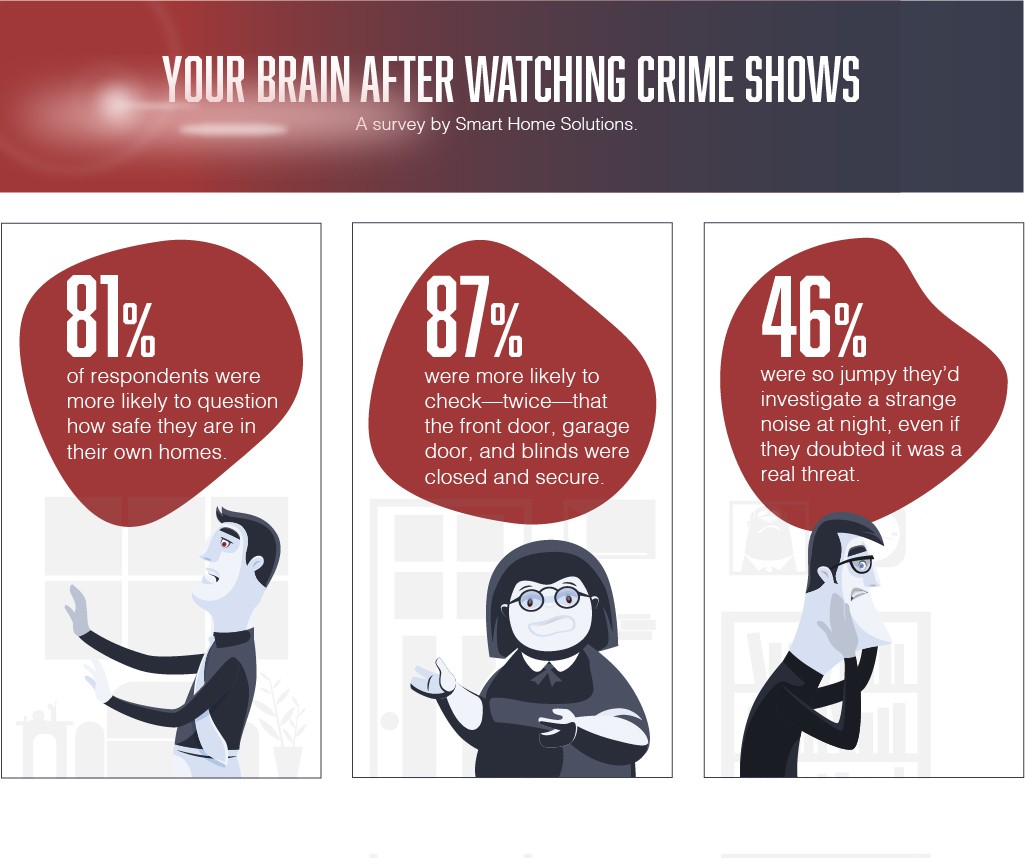 More Interesting Findings
Of the 81% of respondents that were more concerned about home security after watching crime TV shows, 36% were specifically nervous about being robbed.

The most likely crime show subgenre to make respondents more concerned about home security was true crime (42%), followed by murder mysteries (26%). Police procedurals, crime dramas, and other subgenres weren't as concerning for viewers.

83% of respondents said watching crime shows makes them more likely to purchase a home security system.

After watching crime TV,

men were more concerned about home security

than women. 86% of men said they were more worried about home security after a long night of binging crime shows compared to 76% of women. 

Men and women have different concerns

after watching crime shows. Men were more nervous about being robbed (43%), while women said watching crime shows has made them more concerned about whether they're safe in their homes (49%). 

After watching a crime show,

men were more likely than women

to double check that their front door is locked, to get out of bed to investigate a strange noise at night, and to consider purchasing a home security system. 
Methodology
We compiled a list of the 100 most popular Netflix crime shows based on data gathered from Netflix,  Collider, and Short List. We then found each show's search volume in SEMRush and plugged the 9 most searched shows into Google Trends to see which show was googled most by each state in the past 12 months.
Finally, we surveyed 1,100 Americans on Pollfish to learn how watching crime shows impacts their concerns about home security.
About Smart Home Solutions
Smart Home Solutions is powered by Clearlink Technologies, LLC, an authorized affiliate and retailer of Vivint Smart Home products and services. 
| State | Most Searched Netflix Crime Show |
| --- | --- |
| Alabama | The Blacklist |
| Alaska | Mindhunter |
| Arizona | Good Girls |
| Arkansas | Good Girls |
| California | Good Girls |
| Colorado | You |
| Connecticut | The Sinner |
| Delaware | Good Girls |
| Florida | The Blacklist |
| Georgia | Good Girls |
| Hawaii | You |
| Idaho | The Blacklist |
| Illinois | Good Girls |
| Indiana | Criminal Minds |
| Iowa | Criminal Minds |
| Kansas | Mindhunter |
| Kentucky | Good Girls |
| Louisiana | Good Girls |
| Maine | The Blacklist |
| Maryland | Good Girls |
| Massachusetts | Peaky Blinders |
| Michigan | Criminal Minds |
| Minnesota | Worst Roommate Ever |
| Mississippi | The Blacklist |
| Missouri | Mindhunter |
| Montana | Mindhunter |
| Nebraska | Mindhunter |
| Nevada | Good Girls |
| New Hampshire | You |
| New Jersey | Peaky Blinders |
| New Mexico | Good Girls |
| New York | Peaky Blinders |
| North Carolina | Good Girls |
| North Dakota | Mindhunter |
| Ohio | Good Girls |
| Oklahoma | Good Girls |
| Oregon | Mindhunter |
| Pennsylvania | Peaky Blinders |
| Rhode Island | Peaky Blinders |
| South Carolina | The Blacklist |
| South Dakota | Worst Roommate Ever |
| Tennessee | The Blacklist |
| Texas | Good Girls |
| Utah | Peaky Blinders |
| Vermont | The Blacklist |
| Virginia | Criminal Minds |
| Washington | Mindhunter |
| West Virginia | NCIS |
| Wisconsin | Mindhunter |
| Wyoming | NCIS |